My trip around the world kicked off on 5 July 2013. In half a year on the road I have crossed two oceans, visited 17 countries and gone through thousands of kilometres on a plane, on a boat, on a bus and on foot. And it's only the beginning! Right now I am in Yogyakarta, Indonesia, where I am doing my annual review for the year 2013 and making my plans for 2014. Here are the 20 brightest experiences of the journey so far.
20. A football match at 3850 metres
Only the most particular circumstances can force a lifelong tennis fan to take part in a football match. Such circumstances transpired on the island of Amantaní on Lake Titicaca, at 3850 metres of altitude. When having run just a couple of metres you feel like your throat has been scorched with fire. And we won that match against a team of young Brits!



19. Street food of Hanoi
No cuisine in the world can compare to that of Vietnam in diversity! Most incredible ingredients turn into a completely unrecognisable product with a taste that leaves you bewildered. And what better way of experiencing that than to be guided by a local girl, who knows every nook and cranny and who can tell you where to find the best green rice ice cream, the top pho and the coffee made with egg white! Hanoi rules!

18. Swimming in a cenote
It was at the very beginning of my trip, but I can remember the moment like it was yesterday. You enter cenote's translucent water, watching the lights and the air bubbles coming from the depth of the cave below, and rub your nose with an occasional turtle.

17. Swimming on the Waikiki beach
According to the rules of the international best beach competition, the beach that won once cannot participate again. Otherwise Waikiki would win every time! I am not a beach person, but even I could not resist repeatedly submerging myself in this Hawaiian paradise.

16. Coffee in Argentina
Who would have thought that the brightest culinary impression of Argentina would be its endless variations of coffee? Especially for such a steak lover as myself. Turns out I love sweets even more, and Argentina is certainly the world champion of dulce.

15. Machu Picchu
Machu Picchu is an absurdity. There is no other way to describe this grandiose castle on top of a mountain lost in the Andes. Despite the hordes of tourists and the sky high expectations, Machu Picchu meets them and beats them!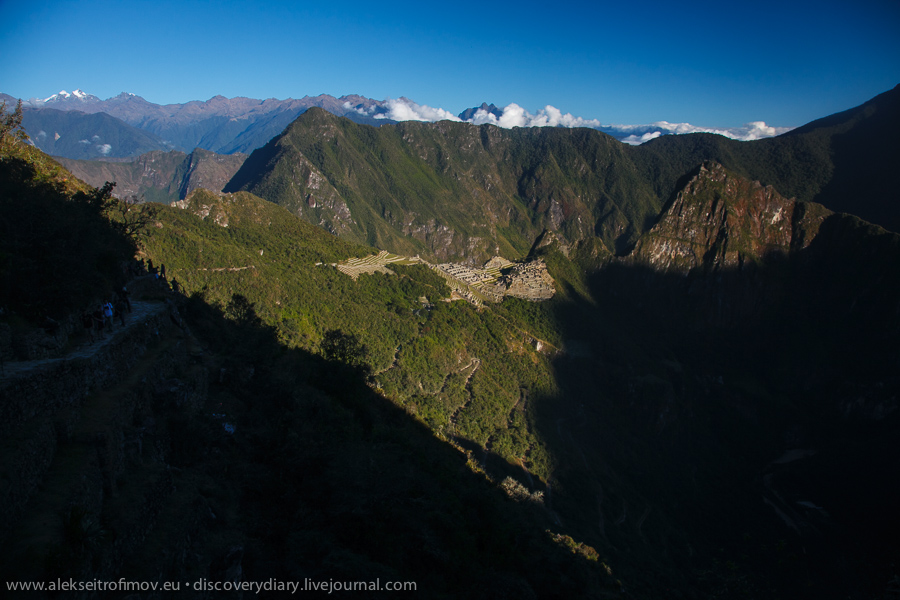 14. Through the Rich Mountain in Potosí
Going through Potosí's Rich Mountain, accompanied by a miner guide, in total darkness suddenly pierced by a light of a cigarette, with the Uncle looking from the shadows… Today this memory has a mystic feel. Three kilometres underground from one end to the other and only one fit of claustrophobia! That was quite something.

13. Inside the Iguazu falls
"Poor Niagara" said Eleonor Roosevelt when she saw Iguazu. The magnificence of this labyrinth of waterfalls cannot be described by words or by photographs. We managed to enter the waterfall on a boat, and I was sitting in the first raw. Watching the water fall on my face vertically from below. Wow!

12. Japanese food
If Vietnamese food is the world champion in diversity, then Japanese food reigns supreme in terms of sophistication and refinement. You can travel around Japan for months and try a new dish every day, but it is way more interesting to learn all the details and nuances of one dish, and to do that you have to try it several times. A step further, the kaiseki high cuisine is without precedent in the whole wide world, combining as it does aesthetics with gourmandise in a unique combination.

11. Tikal, a tunnel into cosmos
Of all the Maya cities that I have seen, Tikal is the most impressive by far. Lost in the jungle, this classical royal city is magnificent in the sophistication of its strict lines. You get goosebumps as you wander around it all alone in the early morning and hear a distant jaguar roar in its enclosure.

10. Christmas in Halong Bay
Dissecting the milky water of the Bay of Halong on a kayak, you take in the ethereal silence. Christmas music from distant ships is disappearing between the vertical rocks. In the pink light of dusk the ships take to shine like giant fireflies. A Christmas dinner is awaiting you on the deck…

9. Wonderful Mendoza
Self-guided biking tours around wineries, zip lining above canyons, rafting on mountain rivers, horse riding in the Andes, juicy steaks with local Malbec, affable locals and a hospitable city – ­all is perfect in Argentina's Mendoza! It was the most pleasant place of the first half of the trip.

8. Party party party
In Seoul, in Santiago, in San Francisco and in Saigon… not forgetting of course about Buenos Aires and Bangkok! A trip all by yourself would not be possible without these moments when you forget everything and turn into a crazy dancer!
7. Descending the Colca canyon
Condors hovering in the sky, llamas welcoming you on mountain passes, a great company, but the most memorable experience in Peru's Colca is the descent itself. Thousands of metres down the narrow mountain path, and then in the darkness of the morning, same way up again. Unforgettable!

6. Hurricane on Easter Island
Dreams come through! One of my childhood fantasies was to visit Easter Island. This was the most distant, the most exotic place imaginable. Thor Heierdahl's Kon-Tiki, mysterious moai and unknowable rongo rongo… Cycling 60 km around the island's perimeter, I managed to get myself into a heavy rainstorm bordering on a hurricane. The discovery of the fantastic Orongo village was my reward the next day. It was all worth it!

5. Fellow travellers at Salar de Uyuni
Nowhere else in the world can you experience the otherworldly landscapes of this remote area in Bolivia. But at a certain moment the meditative trip to Salar de Uyuni turns into a test of endurance. Temperatures moving from heat by day to biting cold by night, sleeping in Spartan conditions, your jeep breaking down, altitude sickness, all of this at an altitude of about 4200 metres… On a trip like this you start to share a special camaraderie with your fellow travellers, and I was particularly lucky with the tripmates this time. Six solo travellers and a driver made a great company. I almost had tears in my eyes when the time came to say goodbye.

4. A puzzle called Japan
Travelling around Japan requires you to constantly rewire your brain. If you find it exciting to encounter alternative logic every hour of every day – welcome to the Land of the Rising Sun! I found this place magical. 28 weirdest impressions of Japan are described here.

3. Death Road in Bolivia
In five hours you descend from altitude 4650 to altitude 1200. On a mountain bike. On an asphalt road that turns into gravel. The road hugs the mountain, and is cut by the steep abyss on the other side. No railings there, mind you. Already in sight of the finish line, I managed to crash into the mountainside. Couldn't move my arm for a week. Endless adrenalin guaranteed. I would do it again without hesitation.

2. Paragliding over Lima
This experience took place in the very beginning of my trip. It was scary to approach the glider, to lend your bag with the passport and the money to an unknown boy, to fasten the belts and to exchange corny jokes in Spanish with the instructor. But when you suddenly take off from the high rocky outcrop on the Lima ocean shore, and the huge city is laid out in front of you, and all that separates you from it is one kilometre of pure air, sheer delight overcomes you and you don't want it ever to end. At that moment my trip was already a success.

1. Hot shower
After endless days on the road in the Bolivian Altiplano, after exhausting walks in tropical cities, after climbing up and down the mountain canyons, there is only one desire left. Really, this is better than sex. And the more you postpone the moment, the sweeter it feels. Hot water washes away the dust, the tiredness, the exhaustion, and you feel like you are young again. Out of all the travel experiences, hot shower at the end tops the list.