The Japanese culinary universe is so vast that to try to describe it all would be a fool's errand. Every prefecture, every island and every region offers a new discovery. On the other hand, the foods you have grown to love can be found with a remarkable consistency in every new town.
It must be immediately pointed out that the Japanese food in Japan is a completely different animal to what passes for Japanese food outside of Japan. In Japan itself very often a particular establishment specialises in a particular dish for decades. Everything is prepared from carefully selected ingredients. Therefore even very cheap dishes often surprise you with an incredible taste.
A separate chapter in the Japanese cuisine is the kaiseki cuisine, which I described in my post about staying at a ryokan in Kagoshima.
Most photos in this post are made with an iPhone with impatiently trembling hands… so please don't judge them too harshly for photographic quality!
Noodles
The story starts with such an ostensibly simple food as noodles. Noodles are helpful as they help a traveller out cheaply, quickly and effectively. In Japan there are three main noodle types: udon, ramen and soba. For my taste, ramen is the best, although I like soba too.
Ramen are wheat noodles, often prepared as a soup with some tasty additions. Here for example you've got pork pieces and freshly cut onions as additions: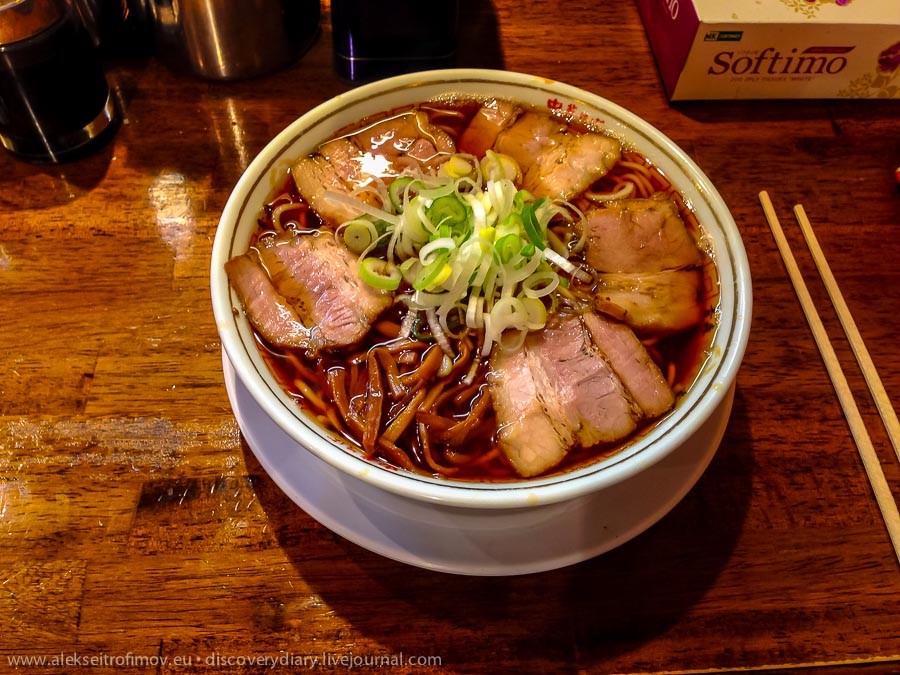 Kyu-ramen noodles that I tried in Osaka:

Even now I get an unconditional appetite reflex when I see this:

This set meal consisting of a ramen dish and some meat over rice I checked out in Nara. At first I couldn't figure out how to order it on entering the restaurant – ­the waiters were sending me towards some machine by the entrance. Finally it came out that you've got to press a button corresponding to your selection, then pay through the machine and with a printed out check head to the waiters.

Fukuoka traditional dish – ­ramen noodles with fish rye mintai-ko:

In Fukuoka I visited one more ramen place, this one pretty much entirely automated. You press a button in a machine at the entrance, pay to the machine, sit down in a row like this:

And through this window

You are served your order:

Spicy! And quite yummy.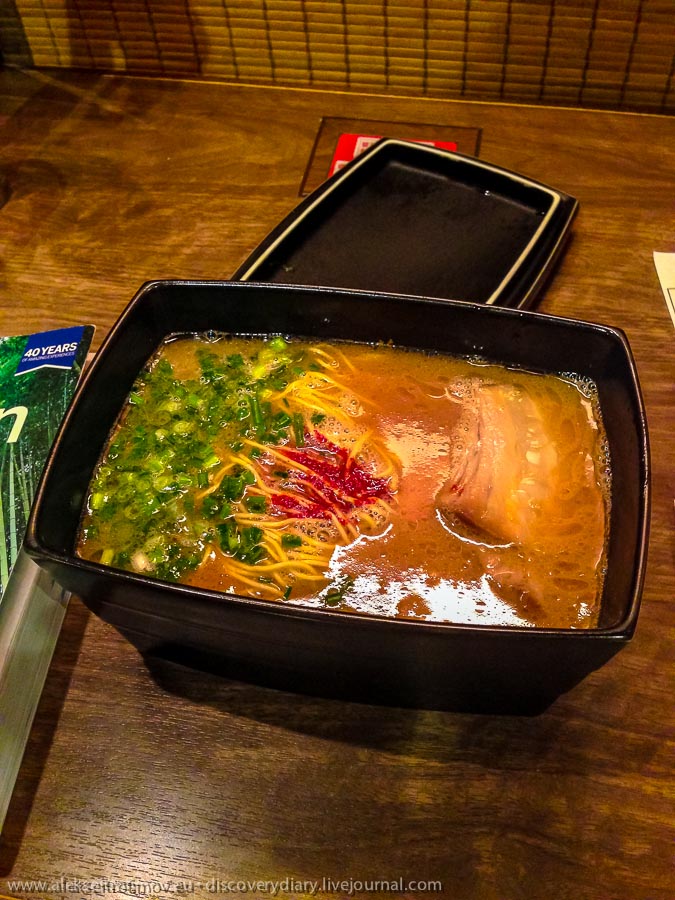 The cheapest option for ramen is the omnipresent Yoshinoya chain. This simplest ramen with pork I tasted in Tokyo. The cost is around 250 yen, i.e. about $2.50. Even in Yoshinoya you get a green tea for free.

Finally, soba noodles. Soba has a particular taste as it's made from buckwheat. This one was my very first order in Japan. I forced myself to enter a random place next to Tokyo central station and to order anything at all, just to break any fear of not being understood in the mystically complicated Japan. No problem at all to order actually. Over the soba you got tempura shrimp.

Udon noodles are my least preferred, thus on this trip around Japan I did not have it once. But I did eat udon very recently in a Japanese place in Hawaii. Udon noodles are thicker than ramen, usually quite fatty and salty.
Izakaya
Perhaps the easiest way for a foreigner to try many different Japanese dishes in one go is to visit an izakaya. Izakaya is an establishment that the Japanese would visit after work to drink with their coworkers. The advantage of izakaya is the long menu offering lots of small dishes meant to be ordered together with the alcohol and shared. Usually the atmosphere there is very relaxed too, so you can make a couple of etiquette faux pas and not care for the world. Some dishes from izakayas:
Chicken steak and yakisoba noodles:

Seafood salad:

Yakitori set – a choice of grilled meats:

Normally every groups sits in a separate room izakaya, therefore you get this kind of bell. It's very convenient really – ­nobody bothers you unless you need something and then the waiter promptly appears.

Spicy baked oysters:

If I understood correctly, these are shark fins. I know, this one is not very ethical to consume, but I try everything once.

The Japanese pancake called okonomiyaki. This was the first time I tried it, this is a small version, the way it's done in Tokyo.

Japanese grill
The establishments where the food is either prepared right in front of you or you prepare the food yourself on the provided grill enjoy a great popularity in Japan. One of the main Osaka specialities is shabu shabu. You cook it yourself in the provided cooking pot that is heated by a heater built into the table. I tried it in this restaurant:

The overview of the ingredients. You put them into the soup yourself. The main ingredient is the thinly sliced beef, in this case rather expensive wagyu beef. You put the beef into the boiling water literally for several seconds. The name of the dish actually comes from the sound that you hear as you do this.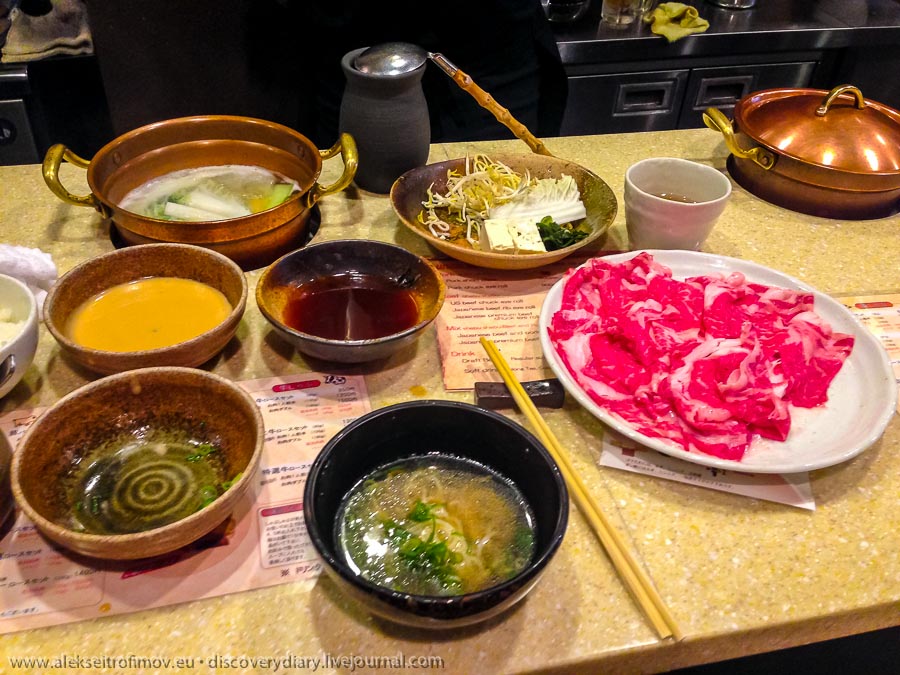 It must be said that the shabu shabu etiquette is not that simple. For example you put the noodles to the broth in the very last step, as otherwise the broth starts to produce too much foam. The cooked vegetables and meat are dipped into the sesame and mustard sauces. All these details are not immediately apparent, so you really have to glance sideways at what your neighbours are doing!

In this Nara restaurant I checked out the Japanese BBQ.

The restaurant has a long list of various meat types. Once you choose the meat, they bring you a set of small pieces and you cook them yourself on the provided grill. Normally you would order several types and share them.

Back to Osaka, this is the preparation of the okonomiyaki pancake, another Osaka speciality (along with shabu shabu). You are expected to do this yourself, but in my case the waiters immediately took charge and basically did it for me. The Osaka okonomiyaki is substantially larger than the Tokyo version, indeed it is a full-fledged dish here. I tried it in this place:

Various stages of preparation. This is a seafood okonomiyaki, so the egg dough mixed with various shrimp as well as vegetables is baked right in front of you.

To finish it off, they put on various sauces and brownish additions made from fish. Fascinating!

Sets
Sets (setto) are very popular in Japan. You get a lunch or dinner set consisting of a number of small dishes. In some places it may be the only option that they serve, in others you get also à la carte options, but a set is often cheaper and tastier (and easier to order!)
This fish set was offered to me in a restaurant in Tokyo's Harajuku area:

A set in Tsukiji Sushi restaurant in Tokyo's Asakusa area. I found it quite incredible that you could try four different tuna variations in the same set. I don't have the gastronomic vocabulary to describe the differences, but they were indeed pronounced. You could never try anything like this outside of Japan.

A very small unagi set, based on the Japanese eel. Looks very intense, but this was quite juicy and even reminded of salmon in terms of consistency.

In this Nara restaurant the set was accompanied by a sake glass and this elegant amuse bouche – ­a small plate with soy milk and berries: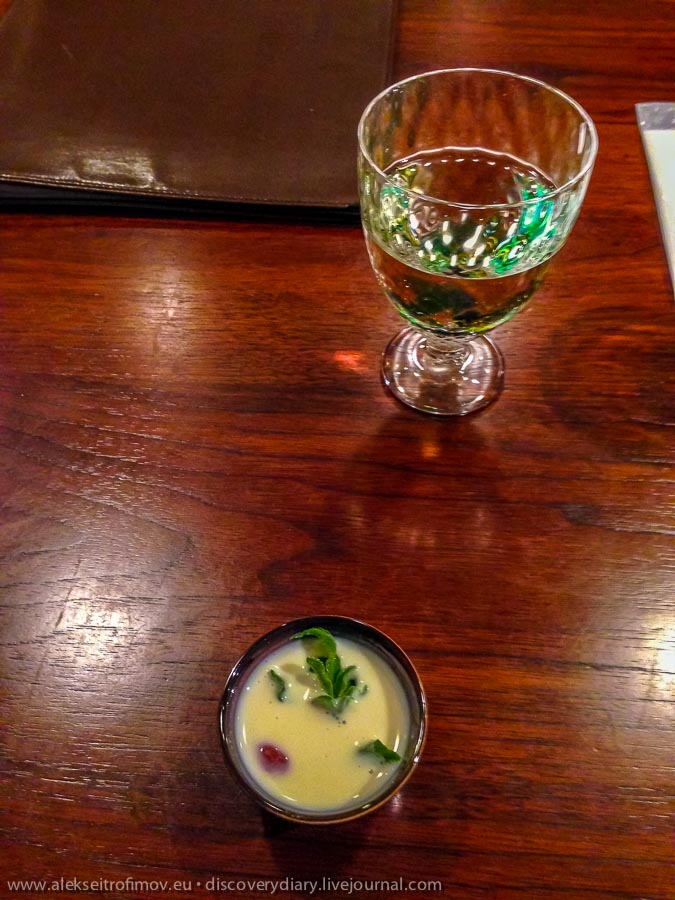 The main part of the set – ­a pork steak, mushroom soup, rice.

A wonderful detail usual in Japanese restaurant – ­a special box to place your bag.

Japanese curry – ­here with tofu and aubergines:

Another set in Matsuyama. This is was a pure shot in the dark, as I had no idea what I was ordering – ­just liked the picture. The Japanese often eat raw eggs. In this case the waiter showed me that the raw egg was to be poured over raw fish (sashimi) and seasoned with some seasonings. And consumed.

This is added to the eggs and the sashimi.

Tofu with very salty fish.

Breakfasts and desserts
I already mentioned the breakfasts in ryokans in Kagoshima and Matsuyama. What made them special was a complete absence of sweet and predominance of sour and salty. This is a more European-inspired breakfast in a business hotel in Tokyo. Anyway, the yoghurt here was really sour and overall it did not feel like a usual breakfast at all.

This is a breakfast set in Hiroshima. Wonderful mushroom omelette.

The desserts are generally rare in Japan. The sets usually do not include them. At the end of my kaiseki dinners I received some fruit. You can sometimes order ice cream as a dessert, with an interesting flavour such as green tea. However in any supermarket you can choose from a variety of buns and prepackaged desserts. Oftentimes very tasty and tender. Two examples: