On the evening of the same day of visiting the Brazilian Iguaçu falls, I moved over the border to Argentina. A bus takes there, leaves you at the border to go through immigration, but issues a special ticket. With this ticket you board the next bus. The next morning I went to the National park on the Argentine side.
This is how the Devil's Throat looks out of Argentina:



At times you feel like you're right inside of it:

Everything is covered with rainbows, sometimes several:

Argentinean park offers quite a few nice walks through the forest. In many places you can approach the falls very closely, look at them from above and from below.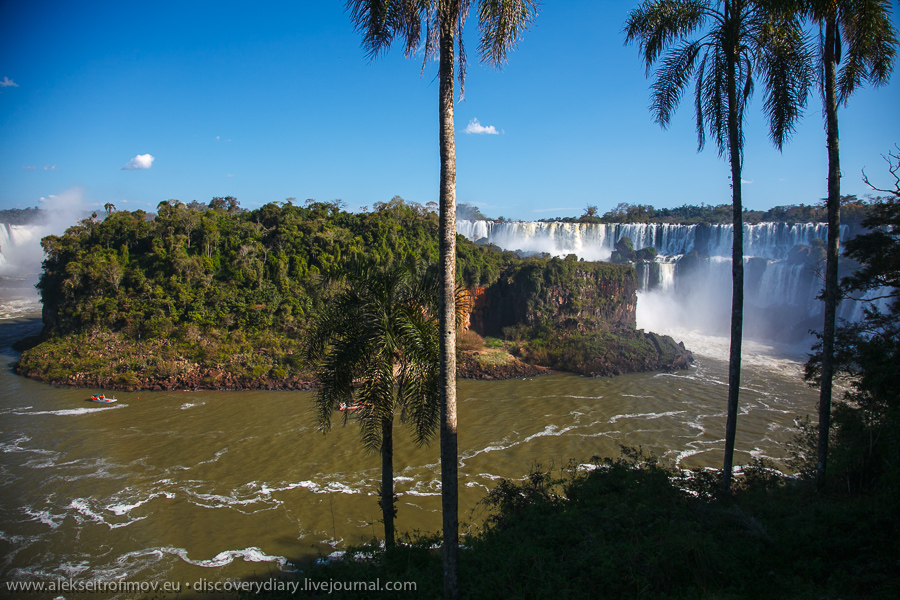 Some falls are hidden in the forest:

I decided to also try the famous boat ride towards the falls.

This is the view from the boat to the Brazilian side.

I chose to sit in the first raw on the boat. This was on purpose. The boat not just approaches the falls, it actually enters it (although I didn't quite imagine it was this drastic). This is quite something. Everybody is shouting like crazy, the boat goes up and down like a Russian mountain, the water simply falls at you from above. I looked up at those moments. It's not every day that you can observe the Iguazu falls from inside!

We also then approached the lower part of the Devil's Throat

Getting closer

And closer

And we enter the exploding water

At some point time has come to hide the camera. As the water was from every side, the camera went inside my rainproof jacket. The rest of me obviously was completely soaked.

Unforgettable!