The Italian food is the best food in the world, and every province boats of a range of delicacies that would make a randomly chosen country proud. In this context Sardinia is no gastronomic champion, and yet it also does possess some articles of culinary pride. I must say right away that the craziest Sardinian foods were nowhere to be found despite our best efforts. These are: 1. casu marzu, the maggot cheese which features live insect larvae that jump up from time to time to threaten your eyes as you eat; 2. the snails that are borrowed underground for half a year, become fashionably rancid and then eaten in this form; 3. the sea urchins that are added to pasta and eaten in season in fishermen's traditional restaurants. As far as I understood, the maggot cheese is nowadays illegal – you can imagine all kinds of health norms that it breaks – and so you can only buy it from under the carpet. It would not stopped me most likely – but the occasion did not present itself. Some other exotic dishes were tried though!
This account of Sardinian food is in the traditional Italian order of serving, from antipasti to pasta and pizza to main dish to the dessert.
Antipasti
In a small place on a side street in Cagliari we noticed a chance to enjoy a selection of local specialities with a choice of local wines. For me of course the mushrooms topped the list. But also ricotta fume with plum marmalade was remarkable, as well as the thinly cut pork cheeks and wonderful Sardinian casizolu cheese. There are three main sorts of red wine in Sardinia – these are cannonau, monica and carignano. This particular glass is of cannonau.



One more choice of starters – this time this is in a restaurant in Sassari. The cheese cuts in front are of course pecorino – Sard speciality cheese from sheep milk. Delicious.

Time for some exotics. In another restaurant in Sassari we tried two different types of snails (out of three on the menu). All were different in size, taste and seasoning. Type number one:

Type number two. The snails tasted very tender, and yet as a food they are of course very heavy – I felt full satiation after this starter alone.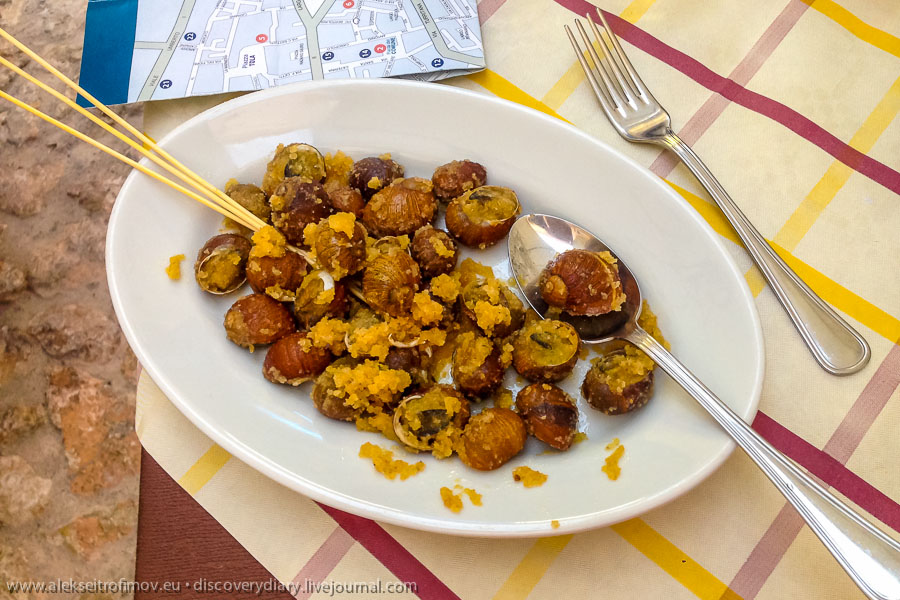 Another starter. Nothing could be simpler – just grilled cheese on some rye bread, and yet how good!

And under starters I would also mention the pistoccu bread. In Sardinia it is served everywhere to accompany the main dish. It has a particular taste, probably potatoes are added to it. This is of course a packaging from a supermarket.

Pasta and pizza
Along with mushrooms, avocado and endives, artichokes would surely rank as my favourite foods. A superb pizza with artichokes and bottarga (fish rye) – a Sardinian speciality: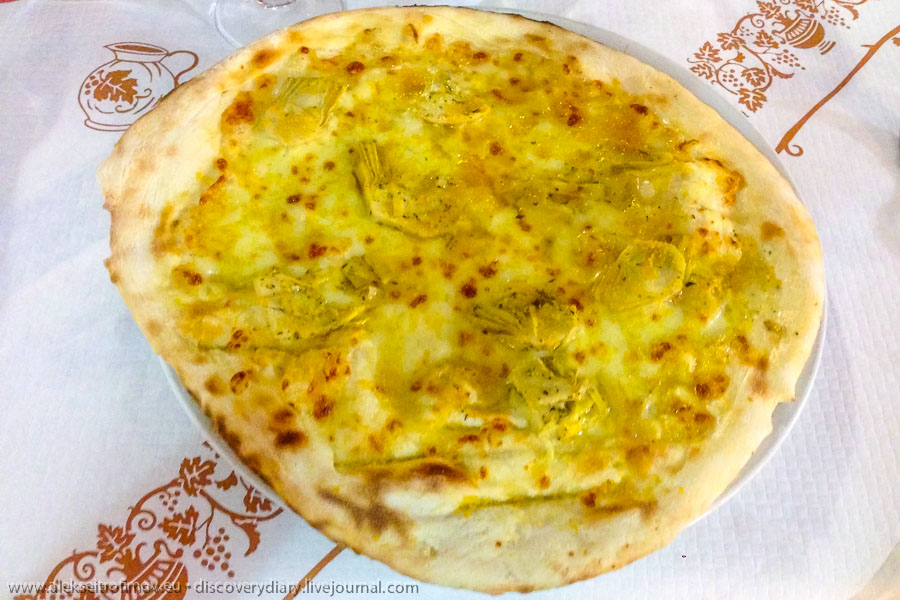 Pizza in a small pizzeria in Alghero. Perhaps the tastiest pizza in my life. Tomatoes and mozzarella that seem like cheese clouds that float in the red sky. Fantastic.

Another Alghero pizza. On Sardinia they love adding the bitter-tasting radicchio vegetable to everything. This pizza also has salsiccia – spicy pork sausages.

This is no pizza, though it is offered along with pizzas in a Sassari pizzeria. This is fainè – a particular Sardinian dish, a local flatbread made from chickpea flour. This one is with mushrooms.

Tagliatelle with mushrooms and salted ricotta in Sassari.

Culurgiones – yet another Sard speciality. These are dumplings filled with ricotta and spinach. The sauce in this case is made of mushrooms and bacon.

A Sardinian speciality called fregola con arselle. Fregola is a kind of pasta that reminds of couscous in texture and of peas in taste. In Sardinia it is served traditionally with seafood.

Secondi
As you would expect from an island, the fish is excellent everywhere. The simple grilled preparation is so good that we would ordered it again and again. This is spigola = sea bass.

What is this? Don't faint. Yes, it's horse meat. Very popular in Sardinia!

And this? Donkey! Even more popular, you see asinello on menus everywhere around the island. For me it was the first time to sample this particular delicacy.

Desserts
Sardinian desserts are famous around Italy for their extreme sweetness.

I couldn't eat more than one item out of this sort of threesome.

This is sebadas, a typical Sardinian dessert filled with cheese and covered with honey. Nothing to write home about.

And to finish – a special drink we drank at a hipster bar in Cagliari Old City. It's called Alligator and was invented right in this bar, Libarium Nostrum. It's a mixture of Drambuie and Calvados. Even boasts of a Facebook fan page! Not for the faint of heart.