My second new experience in Mendoza was cabalgata, which in Spanish refers to a horse riding outing.
Strictly speaking, for me this was not a horse riding debut. In 2009 I was travelling around China. In Jiayuguan, the last fortress of the Great Chinese wall, I got out of the fortress gates that opened to the immense Gobi desert. Behind the gates there was a group of locals offering to every traveller to ride a camel or a horse. I had no such plans, but a skilful salesman managed to persuade me in language of gestures no less to mount a horse. This was a beautifully absurd experience, because he just gave me the reins and said: Go! And the horse went! Full speed into the desert. So I had to find ways to communicate with it already on the go. At some point I realised that holding back the reins actually does affect its behaviour, and so we returned to the gates without a hitch, well just a tad anxious perhaps.
It was all more civilised in Mendoza. I bought all my tours from the same company, so again we were taken to Potrerillos and then further to El Salto area, the village of La Cardita. There in a farm a rather taciturn local named Pablo put each of us on a horse and off we went into the mountains.
The view of the Andes from the Mendoza-Potrerillos road:



The place where our cabalgata started:

My horse was called Penacho. According to Pablo's confession after repeated questioning, Penacho was 13 years old.

Penacho showed himself to be very active and communicative. All the time he aimed to be the first in the procession. He also took initiative and tried to veer off the way to eat some bushes. Pablo explained at some point that the more you let the horse take initiative, the less it will heed your commands, and so in fact we should do the opposite – not let it move off way, not let it eat anything, not let it take initiative. This was a golden piece of advice. Indeed after that as I started to hold back the reins Penacho became very obedient and followed every order very well – so much so that I felt like riding a horse was as easy as riding a bike.

Pablo in front

A group we met on the way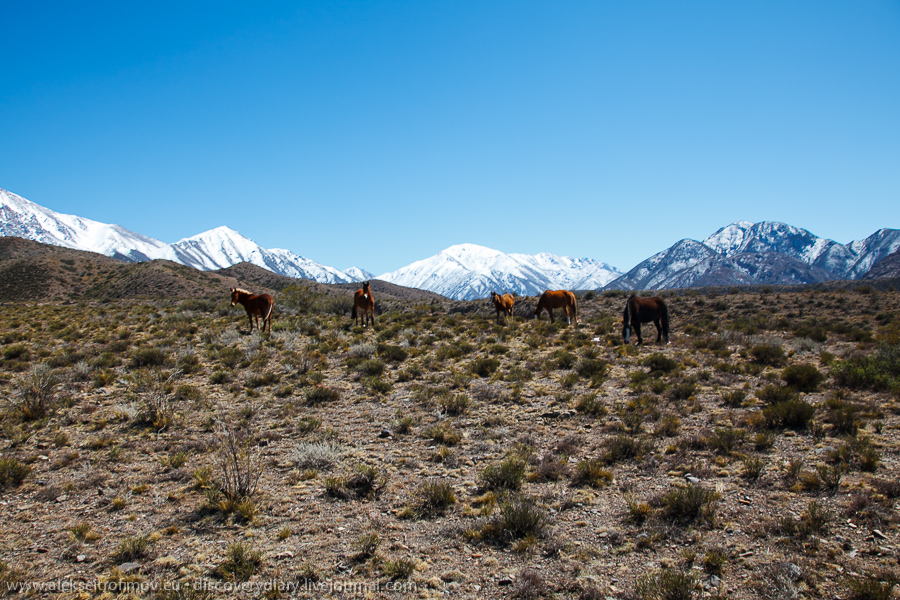 Stunning Andes

Our group (two New Yorkers, two girls from Switzerland and myself)

Penacho takes a rest on our return