I flew to Saigon from Hoi An. Already on the way to the Hoi An airport I got acquainted with Pieter, a Dutchman taking the same plane. I call it the traveller's syndrome – ­when a person tells all their life to a total stranger met accidentally on the road. You do that because you know that we will certainly never see each other again. In the first hour Pieter told me all his life, including numerous wives of different races as well as salacious adventures on every continent. He turned out to be 52, but he looks fifteen years younger – ­there is definitely something to learn from these Dutch! On arrival in Saigon we settled in the same hotel and went to discover this crazy place together, with the condition that on the next morning we would move in the opposite directions. Saigon by night… A kaleidoscope of subcultures, crazy local food, heat, all-permissiveness… From an eatery hidden in a hole in the wall we moved to a bar full of randy Europeans hunting money girls to a bikers' bar filled of pot spirits and so on.
This evening included, I had 1.5 days for Saigon. Which is nothing. And in general, nine days for Vietnam is a crime. This country is so rich in history, impressions, cultural diversity, that I felt like I barely scratched the surface during tats time. I am definitely coming back.
Saigon's official name is Ho Chi Minh City. Which is often shortened to HCMC. Where are you going? To HCMC! It got this name in 1976, when the North definitively defeated the South. Uncle Ho himself died seven years prior, at the height of the war. When he passed away, there is no way he could have been certain of the war's outcome. So there is a historical irony that Saigon would get his name. But I like the word "Saigon" – ­not because I am into revisionism, but simply because Saigon invokes some special Indo-Chinese exotic, a particular spicy hot Asian spirit.
Saigon by night:



That bikers' bar full of marijuana smoke. The waiters were running around like bunnies (and it was not alcohol that made them run like that):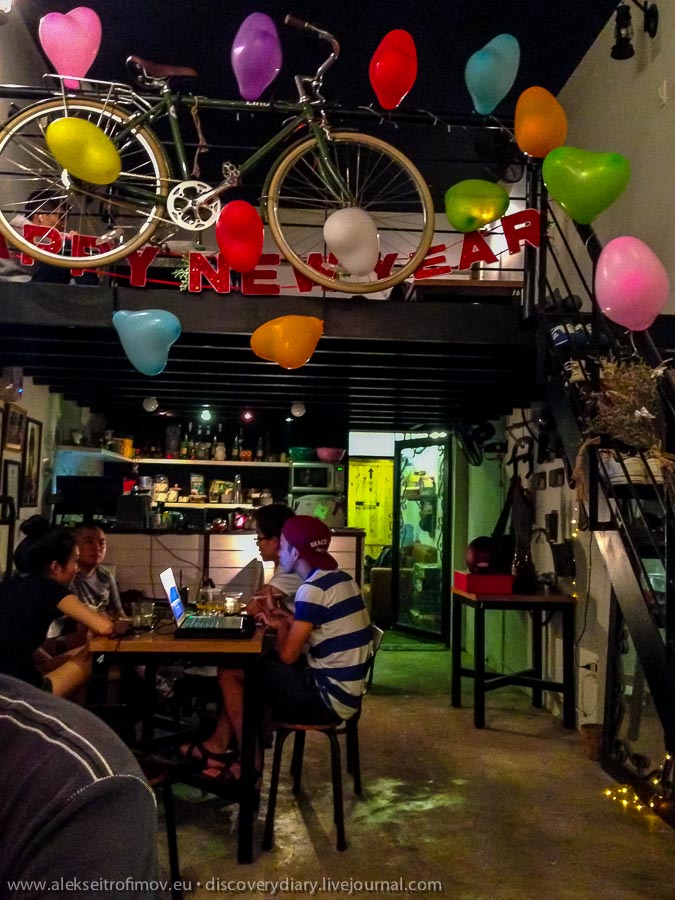 Saigon by day, the main street:

I was heading elsewhere, but could not walk past the Ho Chi Minh City Museum. What stopped me in my tracks were the American planes and helicopters surrounding the museum building. Later I learnt that this particular plane has a special history. Several weeks before the fall of Saigon a pilot of a Southern plane, who was in fact a Vietcong agent, stopped following orders during a flight and went on to drop several bombs on Saigon's Presidential Palace. And then managed to land on Vietcong-controlled territory. That was a big psychological blow to the South which hastened its demise. That very plane:

Captured helicopters:

The entrance to the Museum (which is in fact a French colonial building):

"Independence or death"

Curious leaflets in French, distributed by the Vietnamese partisans who fought the colonisers for independence after the Second World War. "La guerre que nous menons est une guerre de libération semblable à celle menée par la Résistance française contre le Hitlérisme." = "Our war of liberation is the same as the war that the French Resistance is waging against the Germans." Propaganda all right, but who could argue with this today?

My actual objective was this building. Today it's referred to as the Reunification Palace. It is a museum. But originally this was South Vietnam's Presidential Palace. The building is incredibly fascinating. It could have been conceived by a James Bond movie screenwriter. The plan and the façade of the building are symbolically representing various Chinese hieroglyphs, meant to bring luck and prosperity to the country and to the president. Well we know how that went.

The solemn reception hall. The last president of South Vietnam made his last speech here, as he resigned about one week before the fall of Saigon:

Uncle Ho dominates here today, as he does everywhere:

We go down to the basement, hosting a system of armoured bunkers. One of the many communication centre's rooms:

In the heart of the bunker is the President's operation room:

The President's bedroom next door. A special isolated staircase led to the bunker from upper floors. The President's family used when that renegade pilot bombed the palace:

The upper floors hold increasingly solemn reception rooms: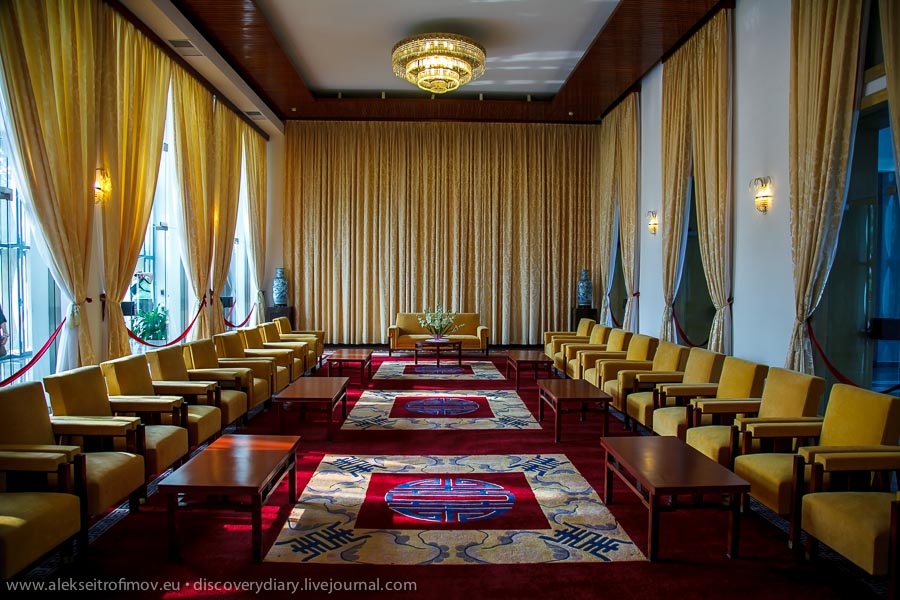 President family's private quarters:

Modernist façade as it looks from inside the building:

The room where the President met his national security advisors, as well as various American representatives: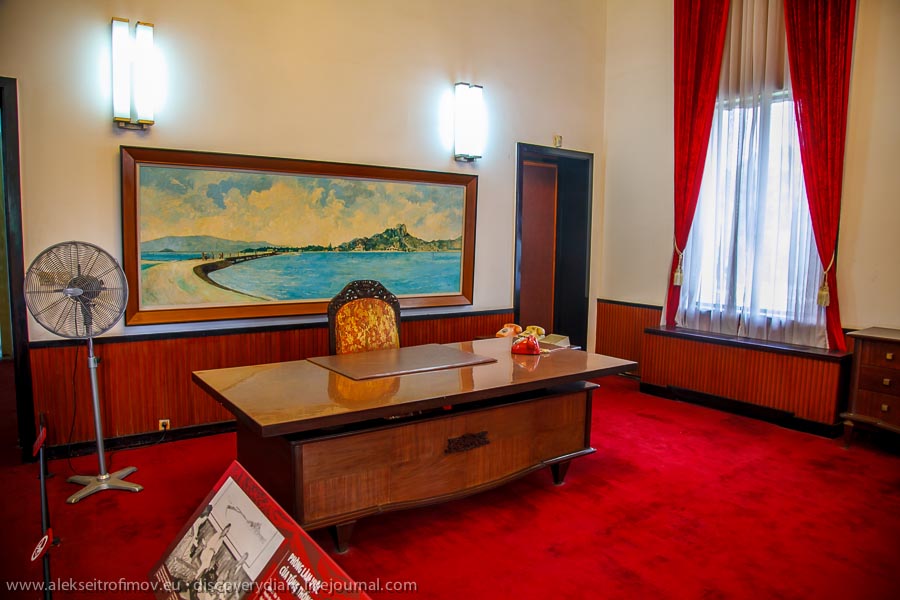 As you climb, the rooms become more and more frivolous. There is a cinema, President wife's tea room, and this is the hall for games and casino:

On the top floors there is a helicopter pad as well as a dancing hall with a bar. You just see with your internal eye a hot Saigon evening, glamorous Asian ladies in evening gowns dancing and a copter landing with the President.

The red circles mark the spots where the renegade bombs fell.

The third museum that I visited during this one day in Saigon was the War Remnants Museum. By far this was the toughest museum.

Its courtyard is also filled with the war trophies.

The exposition starts with a famous quote from the American Declaration of Independence.

Then we see how the American soldiers put that into practice. As propaganda goes… this is genius.

A whole gallery of photos of people caught by the photographer's lenses seconds before being killed by the Americans. An older brother tries to defend the younger brother from bullets with his body.

No comment.

In Vietnam you are constantly amazed at how this country that suffered so much from endless waves of conquerors, that managed to defeat the almighty empire, despite it all is so energetic, so optimistic, so self-confident, so future oriented. Of course the paradox is that the place where communism won today has definitively mutated into a country of one-party capitalism. Just like China. The religion flourishes there. Saigon's cathedral: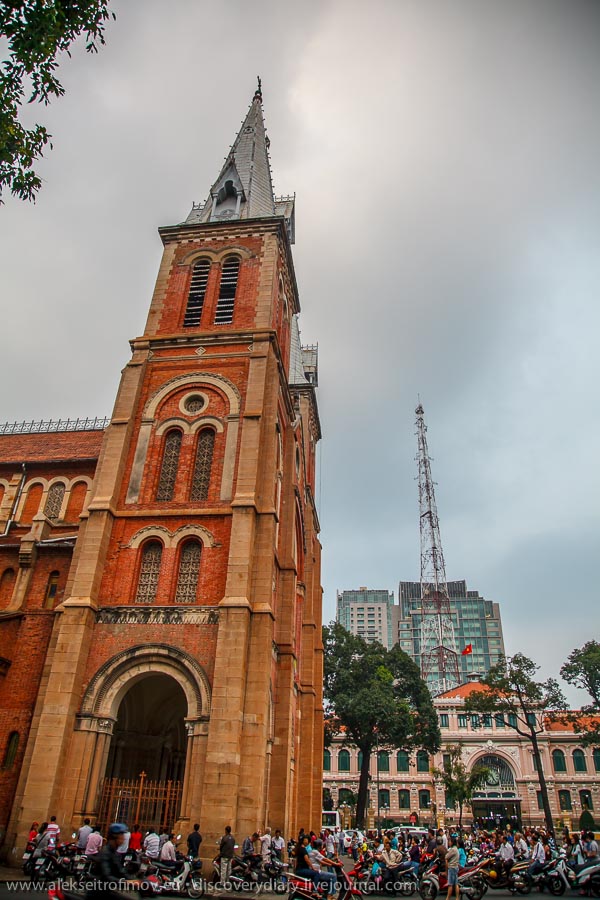 Vietnamese food is incredible. Rich in dishes, ingredients, preparation methods. I am used to exotic food, but even my head was completely turned. I checked out various seafoods in Saigon.
Here are so-called cockles and "a white cocktail" (verrrrry strong):

Pigs' ears. You are expected to roll them into thin white rice pancakes, adding all the remaining ingredients that you see on the plates. You get a sort of self-made spring rolls which you dip in the souce:

Grilled squid (best squid ever):

My hobby is to study airport departure lists and to note for myself how many of the destinations I have visited. Usually a check can be placed against most places, but in Saigon I could barely find an already visited destination! At the time only Bangkok and Paris, on this tableau. Exciting!