Osaka is the second largest city in Japan (if we consider Yokohama as part of the Tokyo agglomeration). But contrary to other famous Japanese cities, Osaka does not boast a huge number of tourist attractions. It is known as a business city as well as for its food. I will write a separate post about the fantastic Japanese food. Here are simply some photos from a one day walk around Osaka.
Let's start from the main (if not the only) Osaka tourist attraction, which is Umeda Sky Building. This futuristic edifice offers panoramic views over the whole city. It is also an object of pilgrimage for countless couples in love, who leave there locks with their names and just have to take a seat on this little bench and look at the city enjoying their harmony:



The view over the central business district:

The upper floors of Umeda are built in the shape of a ring through which you can see the tunnels with escalators as well as the ground way below:

The view from below to the tower:

The main entertainment and shopping district in the centre of Osaka is Dotonbori, intersected here and there by channels:

Simple Japanese families walking on Dononbori. The giant crab in the background is the symbol of the area.

Chaotic streetsigns:

Inside the Kuromon covered market. Such covered shopping galleries are extremely popular in Japan, every city has at least one, and it's inevitably the urban focus. Osaka is particularly fond of covered spaces. Under its station area there is a veritable underground city on several levels. I was surprised to discover that you could walk many blocks in any direction never going out to the street, even from one metro station to another. Futurism!

Kuromon market is famous for its seafood. The inspiration for the Osaka symbol:

For those who've seen Hayao Miyazaki's animations, these are the "black soots" from Totoro and Spirited Away!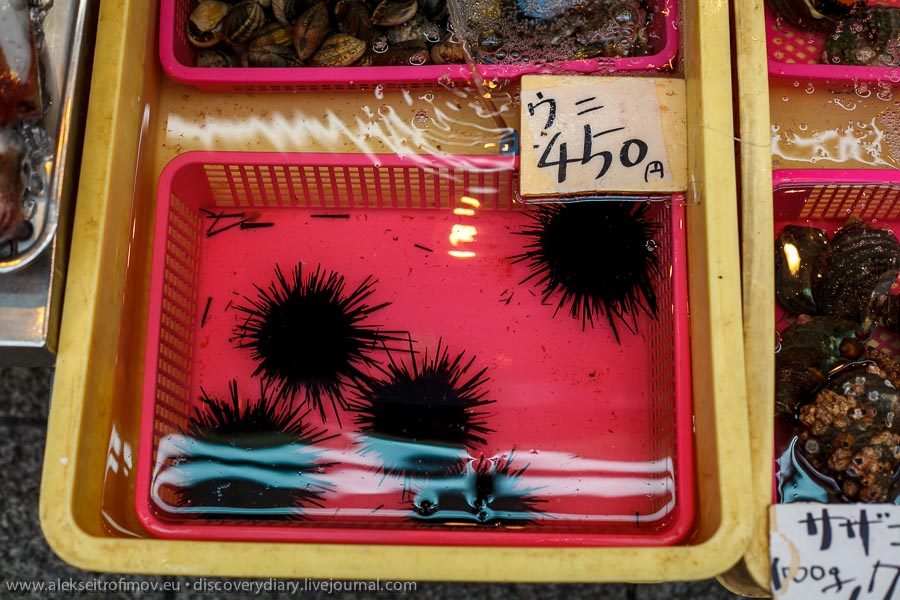 Actually sea urchins of course.

In Fukuoka I visited an exhibition of Hayao Miyazaki's drafts for his different films. I love his films which are a work of incredible imagination. They can be watched by adults and children alike as there are always many layers of meaning. The exhibition was wildly popular with the locals. At the exit it was proposed to draw a character on a sticky circle and attach it to a wall. You can judge for yourself which character was most popular! (Easiest to draw too.) The second place was shared by Totoro, Ponyo and the little wood men from Princess Mononoke.

Back to Osaka's Kuromon, the famous seafoods:

This is the famous Kobe beef, cut in extremely thin pieces. 100 grams of this go in price up to 700 yen – ­that is about 7 dollars. The cows reportedly are given massages and fed with beer to obtain the particular tenderness of their meet.

Street characters:

Pachinko parlours that are open 24/7.

Very popular actually:

Other game parlours:

One more covered gallery:

A man being tender with a dog he just met: