The last post about my trip in Indonesia will be about the wonderful Indonesian kitchen. Indonesian is highly varied and fascinating. People were warning about how spicy it would be but after Thailand it seemed quite moderate and yet rich in flavours and nuances. It has several staple dishes which never let you down and the number one in this list is surely nasi goreng.
I ate this main Indonesian dish in expensive restaurants and for one dollar on the street. In each case it was well prepared and very tasty. Nasi goreng simply means fried rice, usually it is served with various fried ingredients. In this case there is chicken, egg and prawn. If you want to fill your stomach in Indonesia without experimenting too much, nasi goreng is the obvious answer.



This is so-called special cap cay, the very first Indonesian dish that I tried in Yogya. The choice is explained by the fact that at that moment I only had 29000 rupees in cash (about 2 euros) and this cap cay was the most expensive dish I could afford in a roadside restaurant. Cap cay was delicious! It is made of various vegetable with garlic sauce and some herbs. I was licking my lips like a cat.

Oper ayem, chicken with coconut and peanut gravy and pineapples. A simple and rather bland dish, considered apparently a Yogya speciality.

This is ayam goreng – fried chicken – but the interesting part is the drink. It is an avocado shake, which also includes whipped egg. I hadn't realised this last part otherwise probably I wouldn't risk ordering it. No unpleasant consequences luckily. In Indonesia these avocado shakes are very popular, I often observed the locals enjoying them. I love avocado so avocado shake was a bliss for me.

Seafood laksa.

The main Yogya speciality is gudeg. I set off to try it to a local place called Gudeg Yu Djum. When I arrived the personnel looked at me like I was a UFO and couldn't believe at first that yes indeed I want to order gudeg and eat it there.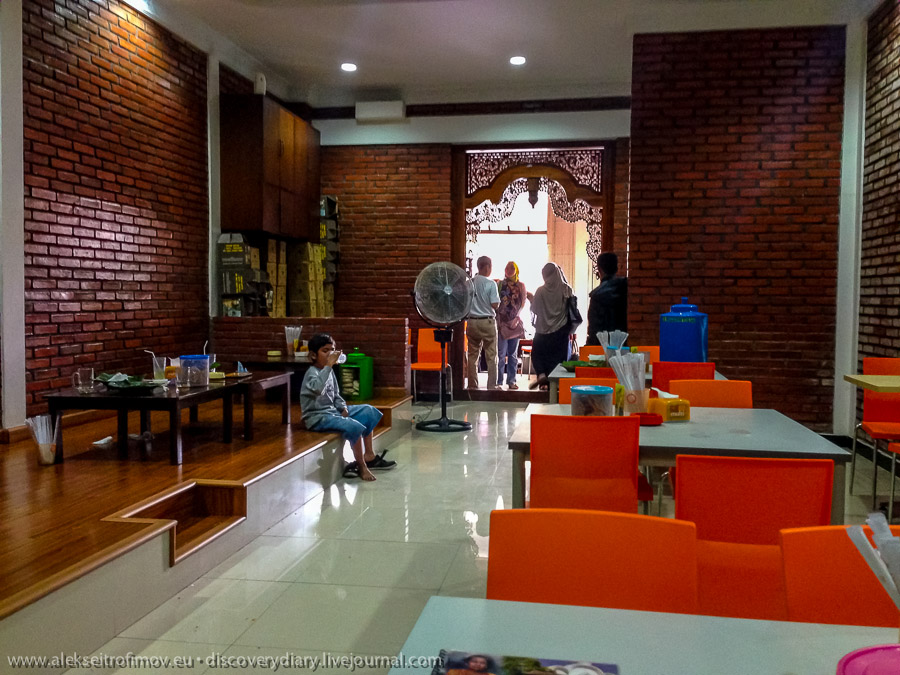 Gudeg is basically chicken with rice with a specially made sauce. Sauce is based on unripe jackfruit boiled several hours with palm sugar and coconut milk. A rather nuanced taste but a very heavy dish.

The waiters understood that I'm after trying unusual things and offered me a local drink from milk, sugar and beans – yummy.

There is no shortage of Western restaurants and supermarkets in Yogya, so if a tourist is really unwilling to eat local food (a crime!) he won't die from hunger. In one supermarket – I went there primarily to buy chocolate – I found this most tender red dragonfruit. In Malaysia we were eating lots of white dragonfruit but never saw a red one, so I was quite surprised to even identify it on a supermarket shelf.

The price of the pack is 30 cents.

Very spicy and tasty soup in a hotel restaurant.

Beef rendang – another Indonesian staple. Often it is made extremely spicy, this version is "tourist" spicy though.

I already wrote about Kopi Luwak in this post. It is a famous Indonesian export. It is actually produced in a number of countries nowadays, for example Thailand and the Philippines, but it was invented right here on Java. I tried it first time in a café in Yogya.

The coffee is served with the opened original pack to assure you that you get the right product.

The choice of coffee in some places in Yogya. I checked out various sorts, Calimantan coffee was particularly good.

From Yogya we move chronologically to Jakarta. One obvious asset of Jakarta is the chance to try out various interesting dishes from all over Indonesia. For me the brightest culinary experience there was this fish soup from Sulawesi. The taste combining sour and spicy and even bitter was fantastic, the tastiest soup I've ever eaten. And there was A LOT of fish in there – I couldn't even eat all of it.

Spicy duck.

Gulai kambir – goat curry. I checked it out in a nyonya kitchen restaurant. (Nyonya are Strait Chinese.)

To accompany my goat curry I ordered merdeka – sorry mes amis francophones – which means independence. It's called this way because it looks exactly like the Indonesian flag. The two juices in there are guava and sourop.

We move on to Bali. This is gado gado – and no it's not the Polish social network – it's a salad with various ingredients, usually vegetables and egg, with peanut sauce.

Mie goreng – fried noodles – one more omnipresent Indonesian dish. The noodles can come with anything, in this case it is chicken.

Ho Mok Pla – a Thai style fish curry.

Bebek goreng – fried duck Indonesian style. Deliciously crispy.

Ayam betutu – smoked chicken – Balinese speciality. And the rice paddies in the background!

Another way of serving gado gado.

Ayem rica rica – a special spicy chicken curry – in my favourite resto in Ubud.

Es campur – most common Indonesian dessert. Es of course means ice, like thousands of other Indonesian words it is a loan from Dutch. Es campur is made of syrup, condensed milk and shaved ice. Bits of fruit are added sometimes.

And finally – the most exotic dish of the trip in Indonesia. This is cobra meat. I noticed the unusual choice of dishes in one of the restaurants on a tourist street in Yogya already on my first day there. First in the list was Devil's drink – snake blood, as I learnt later. Various ways of preparation of cobra and python followed. I promised myself to try at least one of those dishes and a couple of evenings later went for it. Cobra meat has a particular taste and texture, and you wouldn't confuse a piece of snake with anything else. Mainly because of the way the meat is attached to ring-like bones.