My next destination was Antigua. I took night bus from Flores and at 6 am we arrived in one of the many bus stations in Guatemala City. Estonian Foreign Ministry's website comments that "no area in Guatemala City is safe", so I felt a bit uneasy about looking for a shuttle to Antigua in a non-descript bus station. However I was not the only one in this situation, and demand gave rise to quick supply. At 7 am we were on our way, looking at the streets of Guatemala City, where men with serious guns guard one and two storey houses.
Antigua is the old colonial capital of Guatemala and one of the main tourist attractions. The grand old name of the capital was La muy noble y muy leal ciudad de Santiago de los Caballeros de Goathemala. In colonial times it was the capital of the Vice-Kingdom of Guatemala, which went all the way from South Mexico to Costa Rica, including 6 provinces which became independent states after the fall of the empire. The nobles of every province came here to elect the provincial government and to participate in social life. In 1773 a terrible earthquake struck, the city was destroyed, and the Spanish king decided to move the capital to another city, which became Guatemala City that we know today. The old capital came to be known Antigua, which literally means "old" in Spanish.
Antigua is located in the highland valley, surrounded by mountains and faced with three volcanos at its southern flank.



This is where the elections of the provincial goverment took place:

The ruins of the Cathedral of the colonial capital. Today's Cathedral, while still impressive, only takes up a fifth of the area of the old one:

Church La Recoleccion, destroyed by the earthquake of 1773:

Inside La Recoleccion:

Antigua is famous for its processions during Easter Week, Semana Santa. A trace of one of the processions:

Textiles market: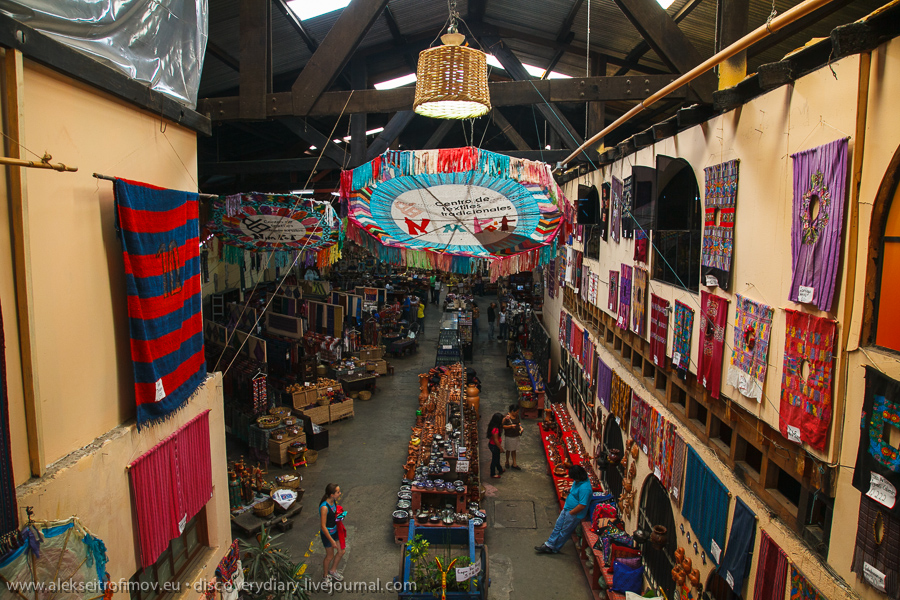 Playing music on the main square:

On a Sunday evening the people are entertained:

Antigua is a true tourist oasis, completely cut off from the poverty and criminality of Guatemala proper, by the mountains and the police. For a traveller however this place seems a true paradise, with its bright colonial streets, moderate climate and astonishing volcanos. My next goal was to climb one of them.