As the plane approaches Kuching, its panorama appears somewhat unreal. Brownish serpentine rivers running their parallel ways, as if painted by a mad artist on the emerald jungle. Slowly they enter the city, the brownish zigzags still cutting it into pieces. You get out of the plane, touch the ground with your feet and repeat to yourself in disbelief: this is Borneo, Borneo!!!
Due to the abundance of budget airlines it is amazingly easy to hop around South East Asia. Particularly if you buy the tickets a little in advance, the prices may match or beat Ryanair. Hence from Penang we made a plane hop to Kuching, the capital of the Malaysian state of Sarawak. Sarawak is no sultanate due to the fact that before WWII it was ruled by the so-called White Raja dynasty. These were (white) descendants of a British adventure seeker James Brooke, who got the title of a Raja from the Sultan of Brunei in 1842 in murky circumstances, mostly as a thanks for military help. WWII changed it all, after the Japanese occupation Sarawak was incorporated into the British Crown colonies and later moved into the Malaysian Federation as it was formed.
As you can see, it is an Airbus: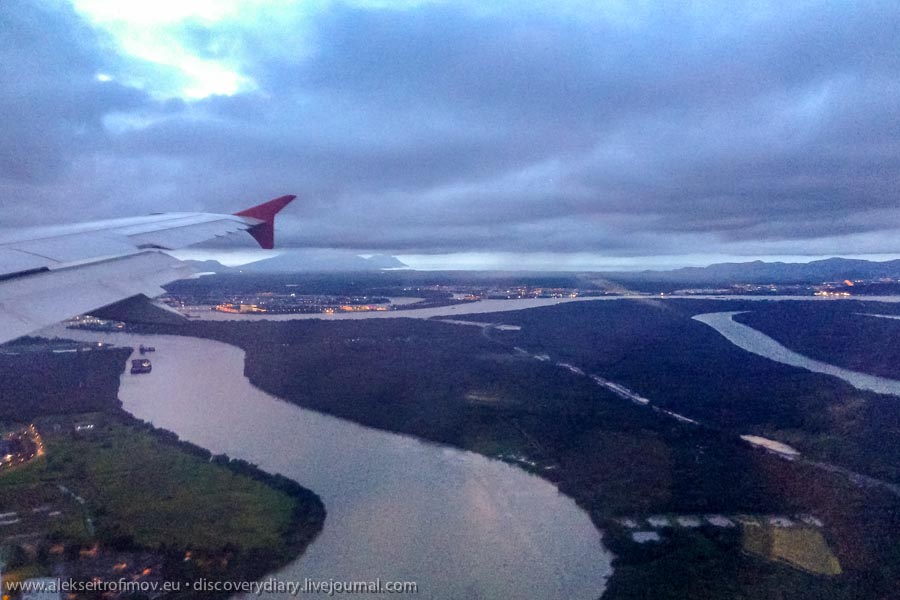 The centre of Kuching from our hotel:

A picturesque building seen from any point of Kuching is the State Legislative Assembly, built a couple of years ago. The shape is that of a traditional umbrella. Strange as it may seem, you cannot cross the river that breaks Kuching centre into two on a bridge – the closest bridge is kilometres away. Little boats with boatmen circulate back and forth instead.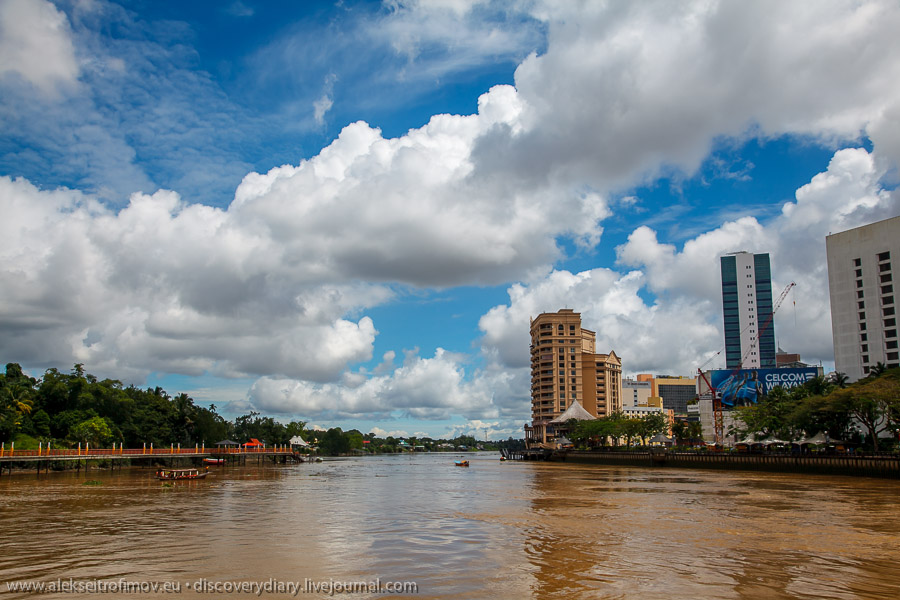 As is Malaysian custom, of course Kuching has got a Chinatown and a Little India. Chinatown's streets:

Inside a Chinese temple in Chinatown.

Chinatown's gates, separating it from Little India:

I checked out the local Sarawak coffee in a small café in Chinatown. Incredibly cheap and incredibly tasty.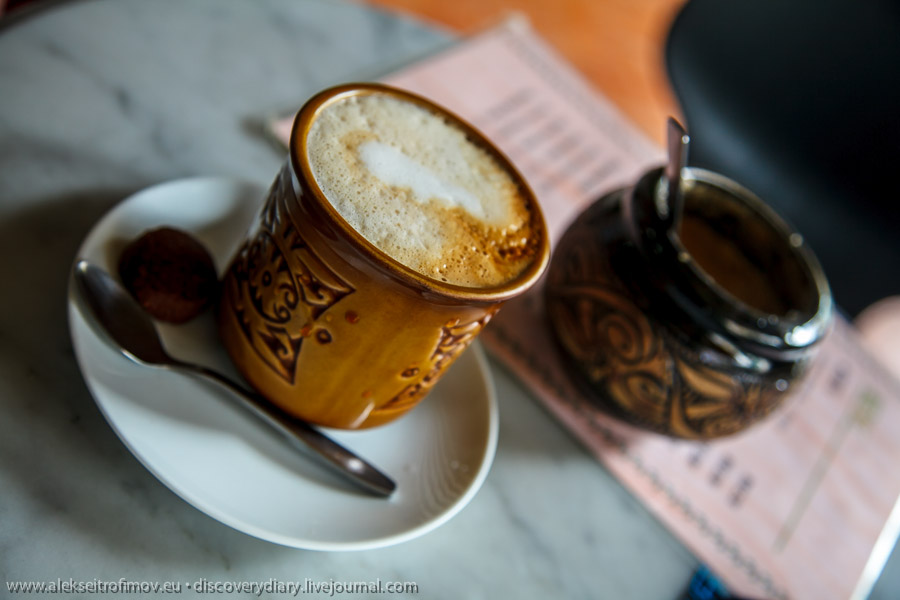 Every hotel room in Malaysia sports this little green arrow, which seems to point in a random direction. Of course this is the direction of Mecca, to help the faithful to bend their knees come prayer time.

Apart from exploring Kuching and its fascinating history and museums, our top impressions in Kuching were: first, the expedition to Bako National Park (a separate write-up will follow); and second, local food. The ideal place for the degustation of local seafood was an open air market called Top Spot. Top Spot is in the centre of Kuching on the roof of a large parking – very practical, come to think of it. It is full of shouting Malaysian families, devouring seafood in industrial quantities and clearly enjoying themselves – to say nothing of the food. It was so tasty that we had to come back on another evening.

First the exotic – the sea cucumbers. This is how they look before being cooked. You can see that I had to try them!

They are prepared in the form of a soup, with a salty and sour taste. I quite liked it, but Martin seemed kinda disgusted!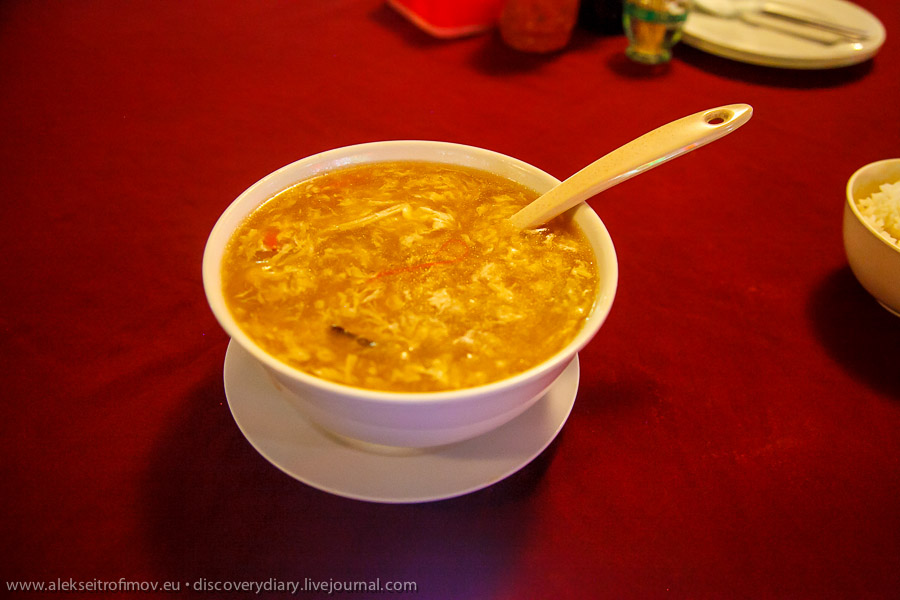 I also ordered this enormous pancake, which features fried oysters, these little black dots. The pancake was highly popular with the families surrounding us, but on inspection it turned out pure cholesterol. So we barely ate a third of it!

This fish though was the gourmet discovery of the trip. It is called white pomfret and it was the reason I wanted to come back to Top Spot. It was the tastiest fish I've ever had! Which tells us something, as I eat fish often. The first day: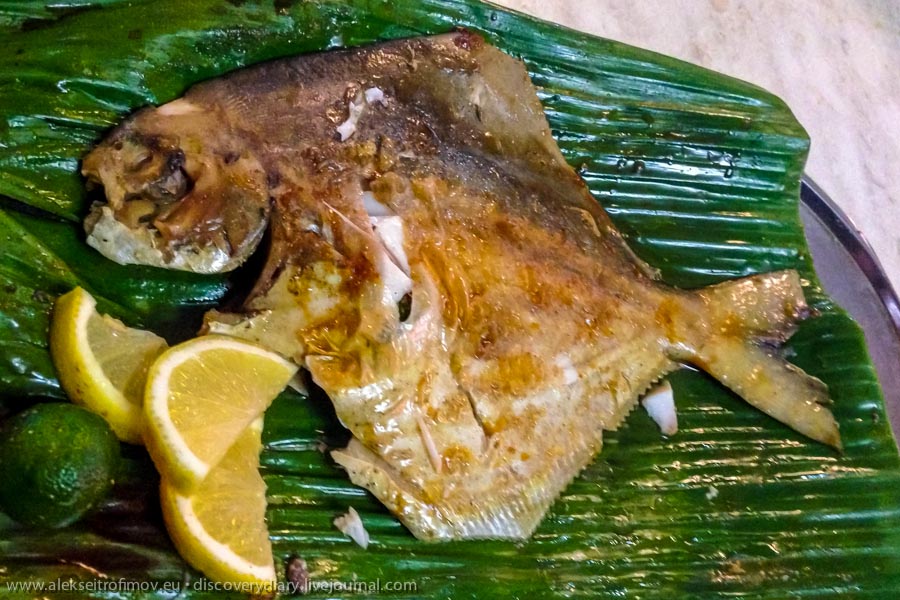 The second day. A jackfruit juice stands next to it:

Giant prawn. These spiny legs are also meant to be broken as they contain tender flesh inside. A Malaysian grandfather from a neighbouring table took to speak to us and was lamenting that they don't give the special pliers to break them. We later discovered these pliers in a crazy experience in Singapore.

Yesterday I tortured Wikipedia trying to remember the name of this yummy sea creature. It's called couteaux in French, but the English name escapes me. Can you remind me? Update: the name is razor shells, in this case it is most likely a Gould's razor shell.

This is how it looks on the counter before being ordered:

And the rest of appetising sea produce on offer. Just point and you get it on your plate ten minutes later. Squid:

Cockles:

Shrimp:

The local Sarawak laksa, which I checked out in James Brooke café on the Kuching waterfront.

Finally, the fruit we got for breakfast. Dragonfruit, most tender and noble in taste, and they say very healthy too.

What fruit is this, in your opinion?