As is my habit, I bought the ticket out of Auckland at the last possible moment. The Kiwi Experience office closes at 6, I arrived there at 5.15 and by 5.30 I already had a bus ticket for 20-day long journey starting next morning at 9 (a Sunday morning at that!) Kiwi Experience is a pretty unique NZ travel company. It is a bus network connecting various picturesque points which operates on the general idea of "hop on hop off". You buy a ticket for a certain route and then you choose the dates when you travel from one point to another. You can travel with an entirely "open ticket" hoping in every point that the bus will have availability – but this is a bad idea. Time and again I was watching sad little groups of travellers who appeared on the morning to find a bus that is full. At 7 in the morning with huge backpacks in a tiniest town this is not fun as it means you get to stay there for a day or two or three. I was loathe to find myself in this situation so I reserved all legs of my journey at once – this meant that my place on the bus was guaranteed on the dates I specified. The girl who issued my tickets was even slightly amazed at the decisiveness and efficiency with which we got it done in 15 minutes – usually it takes way longer – but by the time I came to their office I already knew quite well what I wanted. I spent the whole day beforehand researching the options, after a tennis match in the morning!
The first stop of Kiwi Experience route on the North Island is the fantastic Coromandel peninsula, famous for its landscapes. You cannot reach it on public transport so Kiwi bus comes in handy (unless you travel by car that is – also an option). Once it was a gold mining area, nowadays the counterculture followers such as hippies and back-to-nature enthusiasts have chosen it as their abode. We overnighted in a place called Hot Water Beach, which is also close to Cathedral Cove.
After checking in in a very civil holiday park – which is New Zealandish for a site where little bungalows, dorms, camp sites and van sites all have access to communal facilities (laundry, kitchen, showers etc) – we set off to the start of the walk to Cathedral Cove. The ocean met us:



Cathedral Cove is behind this ridge:

The path waves along the ridges offering crazy views:

Then it enters a forest looking like a fairytale: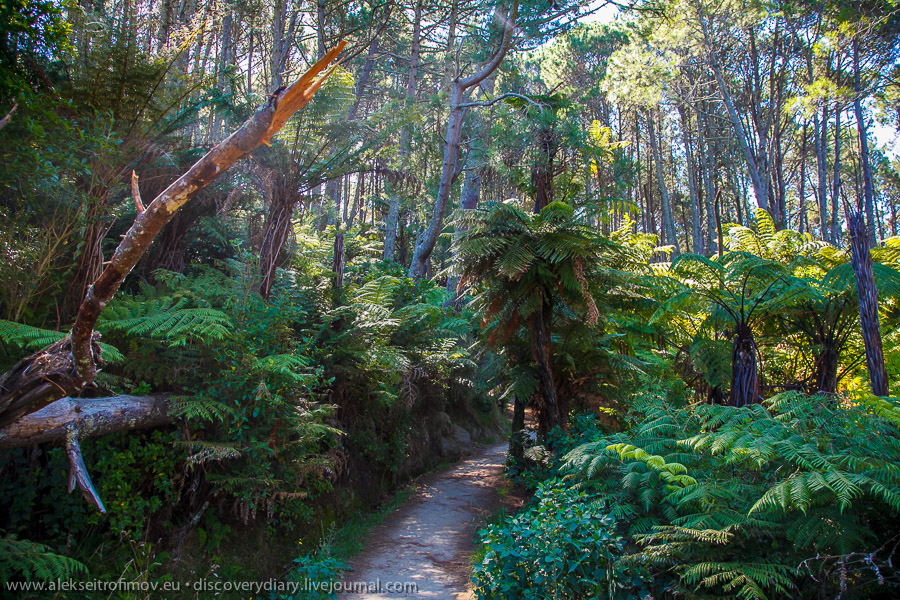 You descend to this beach:

Then you turn to your left and you see this passage, which gave the cove its name:

Actually the Cathedral Cove itself is right there behind the passage. On this side is the Mare's Leg Cove – don't ask me where that got its name. I swam with pleasure in both coves – the water was pretty pleasant here.

In the evening we departed for the main event – the Hot Water Beach. It is called thus thanks to the volcanic water sources that terminate right in the sand on the beach. The hot water then mixes with the cold ocean water, resulting in a pleasantly warm water. The touristic ritual is to bring a spade and dig your own hole where to enjoy the mixed waters. Our driver brought five spades with, though in fact there were enough dug holes there.

The hot water from the sources is in fact super hot, you can burn yourself if you are not careful.

I spent about an hour checking out various pools – they all have different temperature depending on the flow. The darkness fell, the guys from our bus were drinking themselves silly and socialising in the pools. In the darkness I walked to our park looking at the New Zealand sky lit by the piercing South Cross.