Phnom Penh met me with terrible heat, as tropical cities often do. Every time is like that first time, in Bombay – a surprise. All of 38 degrees.
Phnom Penh is a relatively small city compared to other Asian monster-capitals. In its buildup it is strongly reminiscent of Bangkok, also situated on a river bend, also grows around the Royal Palace and the main pagoda, which is called the Silver Pagoda here.
The Silver Pagoda:



The history of the five South Eastern Asian countries is intertwined in a bizarre, but rather binary manner: strength versus weakness, communism versus reactionism, Buddhism versus Hinduism. Anno 2013 Cambodia and Thailand happened to have the same form of government – either are kingdoms and democracies (at least formally). Vietnam and Laos up until this day are communist, and Myanmar in essence is still a military dictatorship.
To make it all more complicated, the long term Prime Minister / semi-dictator of Cambodia Hun Sen is a former Khmer Rouge (Chinese-oriented communist) and at the same time Vietnam's favourite (Soviet-oriented communist).
The main entrance to the Royal Palace:

Also in parallel to Thailand, Cambodia's royals are a fascinating topic. The current king reigns since 2004 and has 1/4 of French blood. He studies in Prague and is the world's only reigning monarch who speaks Czech. He also speaks Russian, lived in North Korea for several years and taught ballet in Paris. At 54 years old, he is not married and according to the official version sees women as "sisters" (!).
His personality is nonetheless nothing compared to the star of his father, Norodom Sihanouk, a man with an extraordinary destiny. I see his destiny as somewhat parallel to that of the Ethiopian emperor Haile Selassie, with the important difference that the Ethiopian's life ended tragically, while Sihanouk in the final count won destiny's favour. Haile came to power in 1930, Sihanouk in 1940; Haile was deposed in 1974 and killed by the communist Derg in 1975; Sihanouk was deposed in 1970, in 1975 when Khmer Rouge took control of Cambodia they first restored Sihanouk as head of state, but in 1976 removed him and placed under house arrest. However he was not killed and after various political changes unbelievably was restored on the throne in the nineties. Both Haile and Sihanouk became monarch as the stroke of luck, not being first in line to the throne; both ruled for many years; both became symbolic of their countries for the rest of the world; both had a grandiose view of themselves and lived an extravagant lifestyle; both had very deep sense of history and fine understanding of their own realms. Sihanouk is in the Guinness book as the politician who has held the highest number of different ruling titles in his lifetime: twice king, heir-apparent, ruling prince, President, Prime Minister, and finally after abdicating in 2004 "sacred father-king". He died in 2012.
Empty streets of Phnom Penh between the river and the Royal Palace:

Inside the Royal Palace: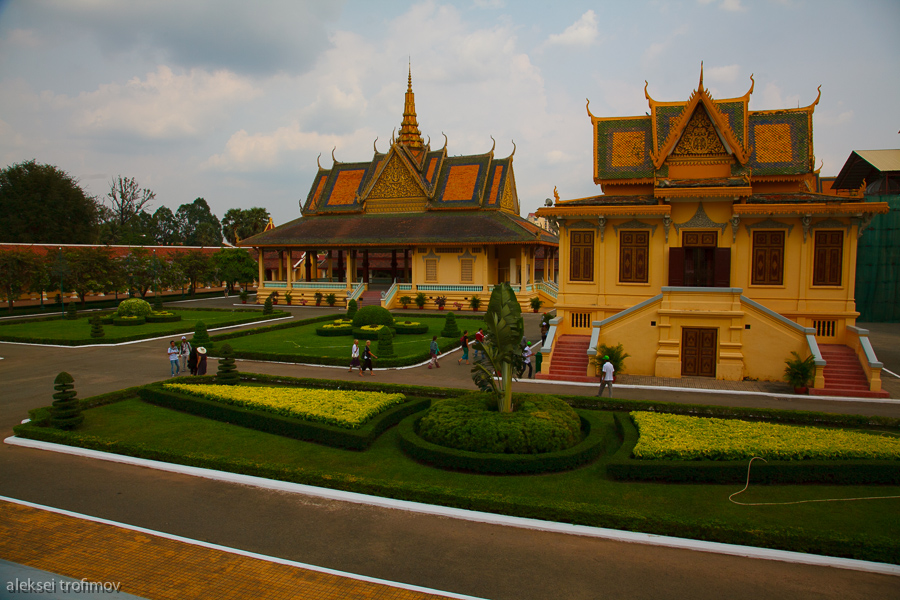 The courtyard in the National Museum next to the Royal Palace:

Inside the Wat Ounalom temple, the residence of the Buddhist patriarch of Cambodia:

Books on a monk's table:

The courtyard of Wat Ounalom:

The other top temple, Wat Phnom, after sunrise. The temple was already closed when I came, but a guard took a dollar from me and waved me in without hesitation: