I don't have any hope that the reader of this blog could possibly follow all my movements. Particularly in the recent months in Europe they have become seemingly stochastic, although of course there is a reason for everything. I flew from Belgrade to Rome with the plan to reunite with friends. As is the Roman custom, our common Roman friend escaped the August heat and pollution of the capital in favour of the wonderful Umbrian countryside. We followed in her stead.
The house of our friends is located at the very end of the village, up on the hillside. This strategic position allows a gorgeous view of the countryside as well as the old castle that stands on a neighbouring hill dominating the surroundings. The castle though no longer belongs to the historical family owners. Some years ago a rich signora had bought it and now she spends the waning days of her old age in the house on the hill. Our revolution-minded friend shared with us the plan for workers to get rid of the signora once and for all and to claim the castle! So far the implementation lags behind the planning though, perhaps due to the heat.



The same hill in the rays of the setting sun.

One day we took a car to see the neighbouring townships. This is the hill with the castle from a far point. It's in the centre, and immediately to the right is a smaller hill on which our friends' house sits.

The view in the opposite direction. The blue stripe of water on the horizon is the Trasimeno lake. The border between Umbria and Toscana runs right about here, and historically this area was a permanent apple of discord. Every township was therefore built on an elevation and surrounded by serious fortifications which regularly came into play.

We visited one such town, Panicale. The town gates in the wall.

The main square right behind the gates.

A fragment of the main church wall on the main square.

A look back at the gates.

As you climb the narrow streets a couple of minutes more, you reach the highest point in the town, which was its historical focus and the main square. The town hall building stands in the centre.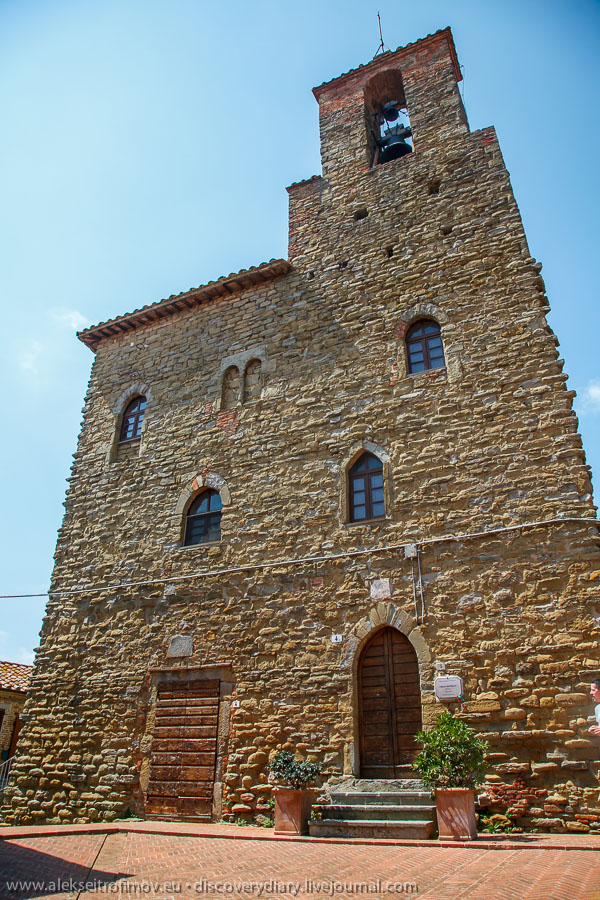 Here our friend shares with me her insight into the rich history of these parts.

We also got a chance to visit our friends' favourite restaurant in the neighbouring town of Paciano. Umbria is one of the glories of Italian gastronomy and everything you get to try there will be divine. A selection of starters:

I love mushrooms and so I could resist this cheese with truffles as the main dish. Incredible!