I am writing this on Easter Island. So it goes with this diary that I write a post about a particular place about two weeks after I was there. This is because it takes me some time to process the photos and to upload them to the website (which is often a challenge considering how slow internet is at times in Latin America). But also it is because it is somehow easier to write at some distance, as if being certain that all of the experiences of a place are by now exhausted.
That's why I write now about Colonia, a small town in Uruguay located right across the bay from Buenos Aires. Still to come are several stories about Mendoza – a city at the foot of the Argentienean Andes, about 2/3 of the way from Buenos Aires and Santiago, as well as a city trip to Santiago itself. And only then I will come to Easter Island.
Going back to Colonia, or very solemnly Colonia del Sacramento, I came there for two days, having decided to take a break in urban exploration of Buenos Aires. It is very easy to do, the ferry only takes an hour and a bit. Last year I already visited Montevideo, which is a pleasant and calm place, deserving several days, and so this time I decided to visit another corner of Uruguay.
Colonia del Sacramento was initially founded by the Portuguese. Their idea was to create a counterweight to Buenos Aires. Brazil was supposed to stretch all the way here, and threaten Buenos Aires with Colonia's cannons. But this was not to be; the resources of the Portuguese colonial empire turned out to be limited and Brazil never reached Colonia. On the contrary, the Spaniards surrounded it from all sides, creating what is now Uruguay. Nonetheless Colonia remained a thorn in Buenos Aires's side for a couple of centuries and only after a complex deal between the empires did it move to the Spaniards' hands, preserving however some administrative privileges – and with them its Portuguese character. Today this character is actively cultivated by the locals, streets have Portuguese names, museums focus on that period, and here and there you can see white and blue azulejos plates.
The overall view of the town as seen from the lighthouse. The centre and the main square of Colonia:



And here is the view to the East:

And the West:

To the South there is only the brownish sea, or rather the bay of La Plata, behind which is hidden invisible Buenos Aires.
The main square of Colonia, Cuban style cars and the lighthouse:

The lighthouse from another angle:

Uruguay is pretty expensive. Generally after Bolivia, which holds the deserved title of the cheapest country in the world, any place would seem expensive. Arriving to Argentina, at first I couldn't get used to the fact that some prices are ten times those in Bolivia. Uruguay is way more expensive than Argentina.
Argentina is generally a rather paradoxical place in terms of prices. I kept repeating to my acquaintances that it feels like some sort of a banana republic. Due to rather strange policies of the socialist government of Cristina Fernández, in Argentina there are two exchange rates for the dollar – the official rate and the real market rate (referred to as "dollar blue"). The difference between the two is virtually 40% – the official rate is about 5.4 peso for dollar and the dollar blue is 9.2. Most tourists come to Argentina in innocent ignorance, exchange their dollars at the official rate and keep wondering how expensive this place is. As I read blogs before visiting countries, I was already aware of this strange situation and first thing I did arriving in Puerto Iguazu was to look for a place which would offer dollar blue rate. This was a song – in one place I got 7, in another 7.5, finally I found 8.5. The feeling was rather absurd – as if we are playing some table game, and pesos are just paper, of which you get more if you try harder. In Buenos Aires I was immediately informed about where to exchange at 9.2 – there are exchange offices that look entirely official, sometimes even demonstrate the official rate in their windows, but actually exchange at dollar blue. Each time I went, I was the only foreigner in the office, and there were queues of Argentines exchanging dollars back and forth. Argentina is the second country in the world in terms of the amount of cash dollars held. After the United States. Truly a banana republic. But once you get this secret, all prices suddenly fall almost by half.
Back to Uruguay, I actually used the trip there to withdraw some additional dollars, as you need them of course in order to profit from the market rate. In Colonia you can withdraw dollars directly from any ATM. Obviously it is a rather widespread manoeuvre.

Restored gates in a colonial fortress:

Another view of the fortress:

The way to the yacht club and the shining sea:

Yachts:

The yachts in the brown water:

A dog relaxing at midday: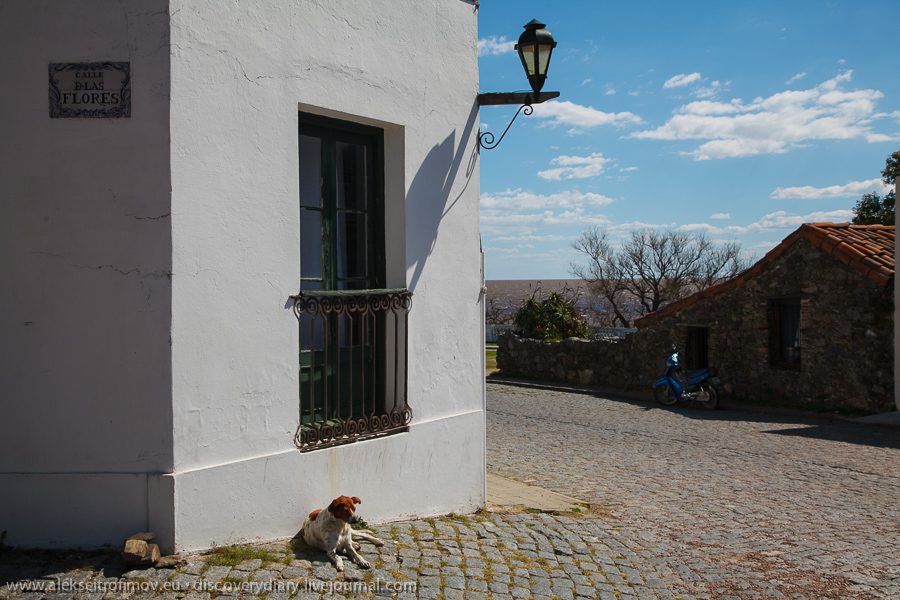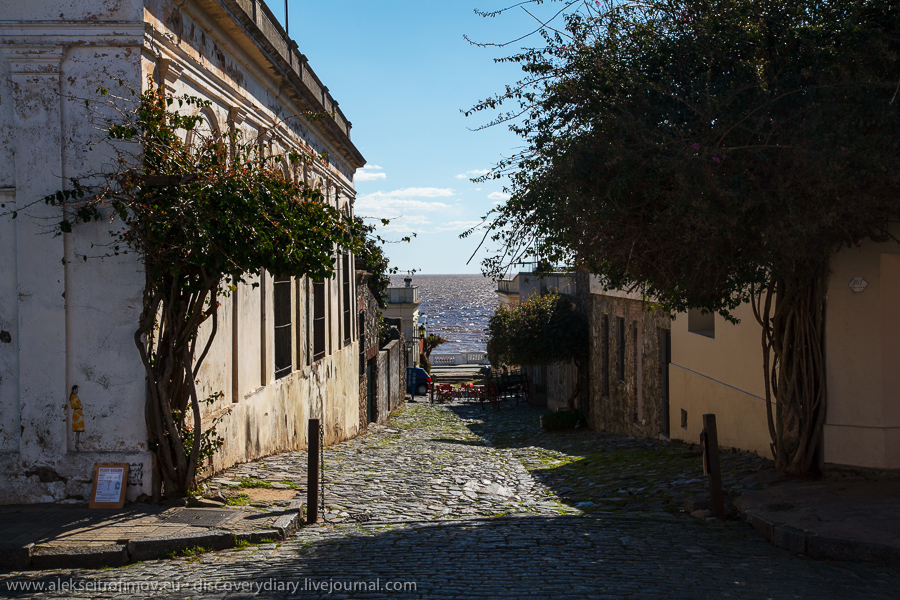 I loved the texture of the wall on Sospiros street:

A figurine in an artesan's shop: