Surely many readers of this blog have been to Turkey. I have been there several times myself. And yet every new visit is a discovery of something new. It is one of the clear lessons of this trip that the longer you spend in a particular place, the deeper – qualitatively different – becomes your understanding of that locale. A single additional day can add an entirely unexpected flavour and depth of immersion. And every so often when the moment comes to leave I have the feeling that only now came the time when I am truly really discovering a place. So it was in Istanbul. I haven't mentioned all the little discoveries I made there in the previous post: say, the gorgeous SALT galleries where you can spend hours enjoying the vibe, the free super quick wifi, the endless amount of books in open access in the library. Other discoveries are related to people you meet on the road – and I have my ways to get in touch with the locals. Finally a good way to sample the country's specificity is by getting acquainted with the richness of its cuisine.
Let's start with the classics! The wonderful köfte – small meatballs – are the pride of the Turkish kitchen, a simple yet amazingly tasty dish. They are invariably accompanied by grilled tomatoes and peppers.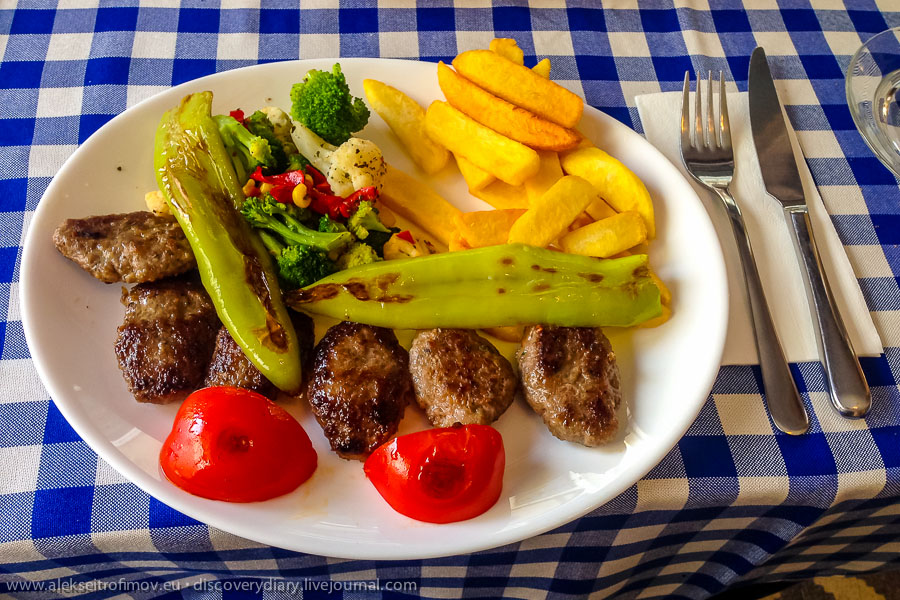 This dish is called sucuklu. I was advised to eat it as an appetiser. It is bread with a lot of cheese and a special Turkish spicy sujuk sausage. For appetisers, for me this dish would be enough to eat for a couple of days! Please note the wonderful drink. This is no kefir – this is ayran (which is called tan in Armenia). As of the time of writing, the humanity hasn't invented a better hangover cure. Tasty and healthy at all times.

Kokoreç – the favourite dish of Istanbul's students. They devour it in the middle of the night in the breaks between partying. Invariable ayran stands its ground in the centre. Kokoreç are ground lamb intestines mixed with tomatoes and mushrooms, fried and packed as filling into a bread. If you're not scared – gorgeously tasty!

Another classic – lamb şiş kebab. I checked it out in the Zübeyir Ocakbaşı resto, promoted by Lonely Planet as the best place to do so. In the evening indeed the place was packed. The dish is called there çöp şiş. The lamb slices melt on the tongue! Foamy ayran in the jar.

A very simple restaurant by the name of Karadeniz – which means "the Black Sea". You enter and point to the dish of your choosing, all the options are laid out on the showcase. Fish of couse is the point – from that very sea obviously. This freshest of fishes landed on my plate following the recommendation from a waiter who spoke no common language with me!

On my Sunday walk in Kadiköy I visited the restaurant called Çiya Sofrası, on the basis of very high Tripadvisor ranking. My order: a delicious fruit wine and, following some furtive glances on the orders of my neighbours, a lamb casserole featuring aubergines, tomatoes, garlic, peppers and spices. To die for!

Adana kebab – a particular type of kebab made on a long skewer.

On a small street near Galata I picked out a glamorous-looking small resto with only a couple of places. A tender suckling lamb was the fitting conclusion of my culinary discovery of Istanbul!

But what can compare to Turkish sweets? I lost myself in the endless dessert menus of the countless teahouses. I arrived in the Hafız Mustafa teahouse on Taksim Square at most unexpected hours – and yet even at 3 a.m. I could get a tea and a fresh sweet concoction. A pistacchio miracle and a tea.

Another day, another hour – and yet again the superb Hafız Mustafa. This sweet sensation is called Fıstıklı Tel Kadayıf.

Another Istanbul institution I kept returning to was Saray Muhallebicisi. A cherry tiramisu. No comments.

An Istanbul classic called Künefe Kaymakli. A combination of whipped cream, burnt sugar and voluminous cheese was so heavy I could barely eat a third of it!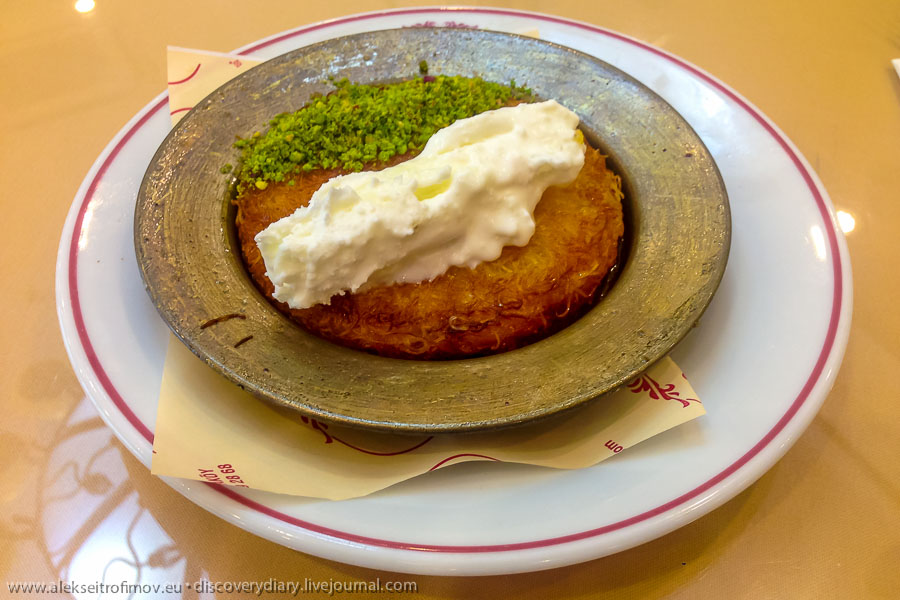 Suprisingly light dessert – a rice pudding with a burnt top in crème brulée style.

Yet another typical dessert – a chicken cream! Very popular locally, it used to be served as the grandest of delicacies in the Sultan's palace.

A dessert in Pacifik bakery in Kadiköy

Tiramisu and a tea in a characteristic drop-like glass. This tiny glass can be seen all over Turkey and immediately creates an exotic Oriental vibe. As you observe those glasses devoured by the local men in endless hours on the street, you cannot help going over to the dark (tea) side!
Özsut is another chain of teahouses in Istanbul where I sinned.

Enormous sizes!