Right now I am in Kathmandu. I have been here in Nepal for several weeks already. The previous post on this blog deals with adventures in Vanuatu. In between Vanuatu and Nepal I crossed a few other countries. It sounds like a lot, but in truth the delay of my blog compared to my real time physical movements is not that large nowadays. The only large chapter that I had to skip for now is the one that deals with Australia. In fact I went there twice on my trip: first time for about a month after Indonesia and before New Zealand; and second time now after Vanuatu I stayed in Brisbane for about a week. I guess I will come back to Austalia at some later point in this blog when I have a little more time, but for now I will press on with the trip as it developed after Vanuatu.
From Port Vila I flew to Brisbane and from there on, changing in Singapore, I arrived back to my beloved Bangkok. I stayed there for about a week, did a lot of stuff there, reading books, planning my trip from there on, exploring the various hidden parts of the city – but it is difficult to report on this in a photo blog. One day I decided to play tourist and went for a day long tour of three famous tourist attractions situated to the West of BKK. This post is about that visit.
Attraction nr 1: the famous Floating Market
Strange as it may seem, in my many visits to Bangkok I'd never mastered the time to get acquainted with this quintessential Thai institution. There are several floating markets around Bangkok, this one being the most popular and the most touristic one. Frankly all of the stalls facing the waterfront are meant for tourists. And yet it is by all means a picturesque and involving spectacle.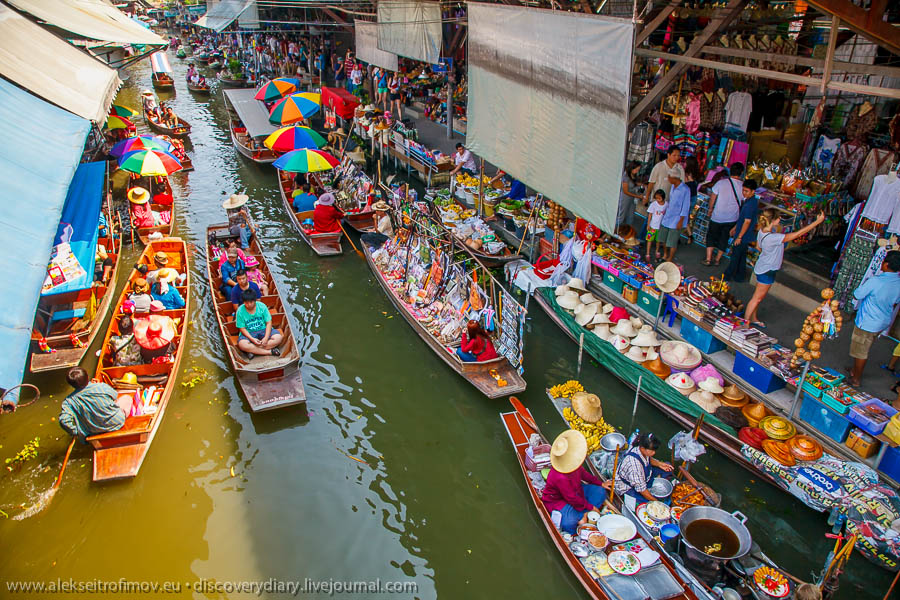 Colourful chaos of boats is moving every which way.

This was our first move – a boat trip down the narrow channels:

The floating market is like a town on water criss-crossed by channels-streets.

Most of the boatmen are in fact calm ladies of this kind: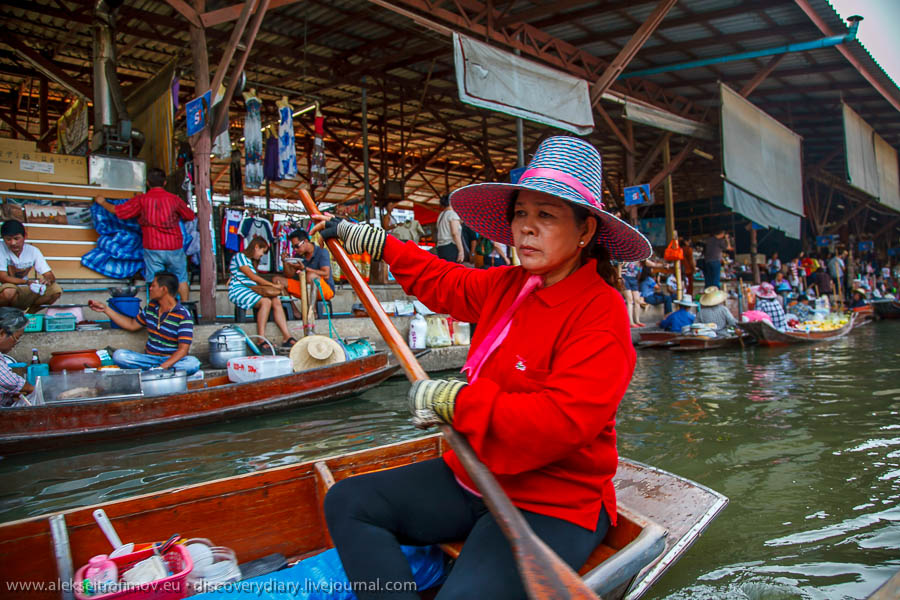 The goods on offer:

Trade in the slow Thai time.

This lady like so many of her colleagues is selling food from a boat. Her particular speciality is the wonderful Thai dessert – sticky rice mango. Sugar tooth that I am, I loved it so much I ate it several times a day.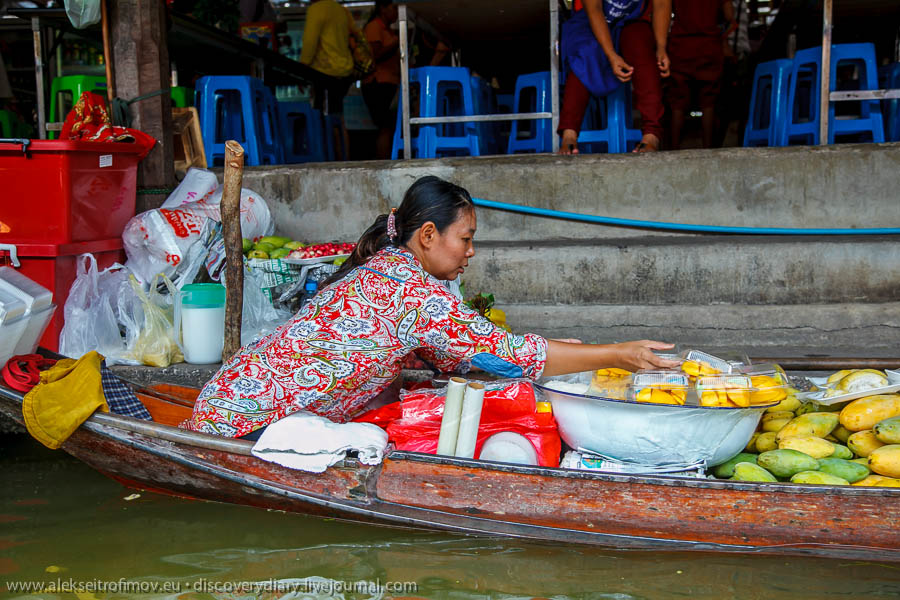 A traffic jam on the channel! Everybody's shouting and kicking and only increasing the bedlam.

The most active stalls are those selling cheap Thai food, usually noodle soups with some meat pieces added on top for about 60 baht.

Fruit stalls are no less pop.

An Italian tourist decided to get acquainted with some reptiles for a moderate fee.

Following the floating market tour a motorboat took us around the back channels, where there are no tourists. People live there. A guy taking his morning bath.

On to the next stop – the bridge on the river Kwai. The bridge was made famous by the American movie from the fifties. It was built during WWII by the Allied war prisoners of the Japanese, many of them American and Australian. In the terrible working conditions and the heat the death rate was terrifying. Most dead were fellow Asians though.

The bridge today.

It still functions as a railway bridge, as it was meant to, even though the traffic is sparse as the Thais seem to favour other means of transportation.

Eventually we reach the third and final stop – the Tiger Temple. We got there about 4pm. Overall the day slowly morphed into a test of endurance. The first two stops did not test our patience too much – although we explored them in the day heat under the strong Thai sun. But the time it took to get to the Tiger Temple and to return to Bangkok bordered on ridiculous. We got to Khaosan Road about 8pm. Consider that I had to wait for the bus at 6am in the morning in my hotel! On Khaosan Road I created a fuzz as it is quite some way from my hotel in Silom and I expected to end the tour where I started it – so the driver simply put me into a taxi and paid the fare. Do prepare for a marathon if you ever consider this tour.
There are in fact several Tiger Temples in Thailand. This one was founded about 10 years ago and is focused on a small Buddhist monastery. The tigers got there by chance. The poachers systematically kill adult tigers in the woods on the Burmese border not far from here. A number of tigers cubs were caught after their parents were killed. THe founder of the monastery decided to buy these cubs and to raise them. In the beginning he had no experience of doing this but learning on the job and using the visiting volunteers' experience they have created a kind of a business, also buying new cubs. As of now they've got 8 adult tigers, 4 males and 4 females, and some cubs were even born in captivity. One such cub was playing in a pool on the main street of the Temple.

Two European looking volunteer girls kept an eye on him.

I was standing right by the fence and suddenly the cub approached me. The chain prevented him from licking my camera though.

An attraction called "photos with the tigers" is situated in another part of the Temple. This is included in the entrance ticket – which is quite expensive by Thai standards. The rule states that you can get your individual picture but have to pay extra for group pictures with your friends or family. You walk around accompanied by handlers, one is making pictures with your camera, another is holding your hand and telling you which pose to strike.

The fear threshold is very different for everyone. Among my fellow travellers was an Indian couple; the girl let a tiger put his head in her lap and smiled calmly; the guy couldn't even come to a tiger closer than two metres.

We deliberated for a while if the tigers were fully aware of what was going on. I read somewhere that usually in such institutions they are drugged with medications and actually half-asleep. That's how it seemed indeed, although once in a while a tiger would suddenly turn on his back or move his paw sharply and of course you would jump aside instinctively.

Anyway, it is not a pinnacle of braveness to get close to a tiger like this.

A curious experience nonetheless.