On a sunny early morning in Pristina I took a bus bound for Skopje, or Shkupi, as the Albanians would refer to it. Of course the bus was late to Skopje – which is the rule rather than an exception in the Balkans, hence I had programmed it into my planning. In the fifteen minutes left until the next bus to Ohrid I managed to exchanged money, buy my ticket and even drink some coffee with characteristic Macedonian pastry.
I've been told more than once that travelling around the Balkans with a car is madness. Basically I must agree that it's rather impractical, as your own car does make things an order easier and permits you to visit many out-of-the-way places otherwise too hard to reach. And yet with intelligent planning also the public transportation actually allows you to do quite a bit. My blog is one evidence of that.
I arrived in Ohrid in the afternoon, moved in to a room I'd booked a day before and immediately went for a walk around town. Ohrid is located on the shores of a wonderful lake. Let me start from the views of Ohrid as seen from the Car Samoil Castle. Direction South, the Old City:



Direction West: Plaosnik. This is a small peninsula jutting off into the lake. A recently and beautifully restored church is next to ruins of another Bysantine time church. Building sites surround them testifying it's indeed a prime real estate location.

Car Samoil was a powerful ruler of the First Bulgarian Empire in 10th and 11th centuries. His Empire was a mighty opponent of Byzantium itself and one of his capitals was here in Ohrid. This adds ever more flavour to the endless arguments about history that Macedonia is fighting with all of its neighbours.
Of course the most explosive argument is with Greece for the very name "Macedonia". I will write more about it in the post on Skopje. But there is also a very bitter debate with Bulgaria about the very identity of Macedonia which some Bulgarians refuse to recognise, insisting that the Macedonian language is but a version of Bulgarian and that the Macedonian ethnicity is a recent fiction. A quarter of Macedonia's population is ethnic Albanian, indeed about a third of Lake Ohrid's shoreline actually belongs to Albania proper. There is a simmering conflict within Macedonia fuelled by the desire of the Albanians for ever greater autonomy, sometimes erupting in violence and clashes. Potentially these Albanians would like to join Albania – or even Kosovo, which appears much closer to them in cultural, political and linguistic sense. The last neighbour is Serbia, and although Macedonia was the only former Yugoslav republic that was allowed to leave the federation peacefully, the relations there are not particularly friendly either.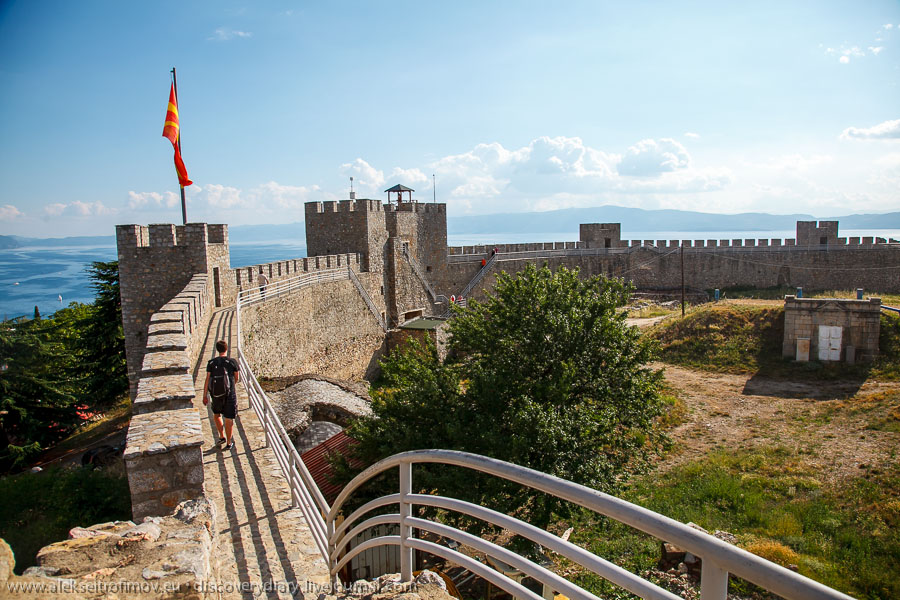 Direction North: suburbs of Ohrid along the lake: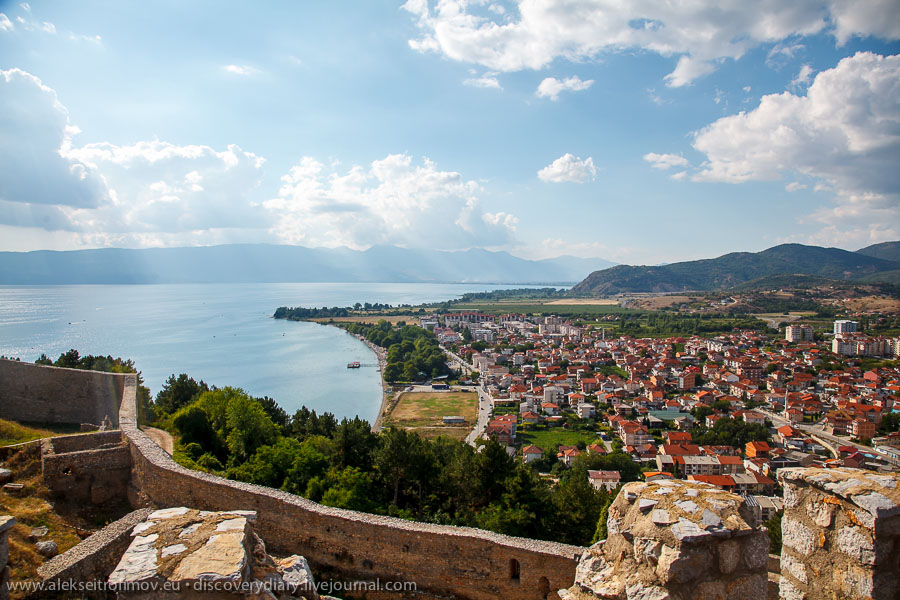 Ohrid's narrow streets: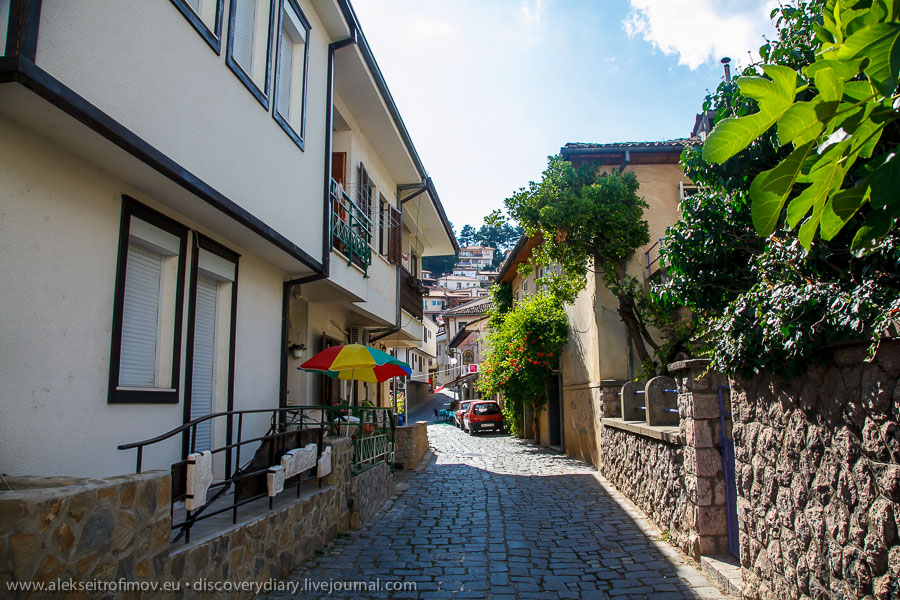 In Café Aquarius just two steps from my rented room. This is the mood in Ohrid: sweet farniente.

Saint Sophia, the main church of Ohrid:

Gorna Porta, Upper Gate of Ohrid on a hill overlooking the town. Car Samoil's Castle, the Roman Amphithetre and Plaosnik are all on the same hill within a several minute walk from Gorna Porta.

The Church of Sveta Bogorodica is immediately next to Gorna Porta. As I entered the church following another visitor, the guardian asked him where he was from. There are different prices for "own" and "overseas" visitors. "I'm from Serbia" he said. "Oh you're ours," she said smiling. "And you?" "Estonia." "Well, you're ours too."

Classical amphitheatre from Roman times is obviously used today for concerts:

Plaosnik and its centre – the church of St Kliment and Panteleimon. It was restored in 2002 in line with the 5th century Byzantine original.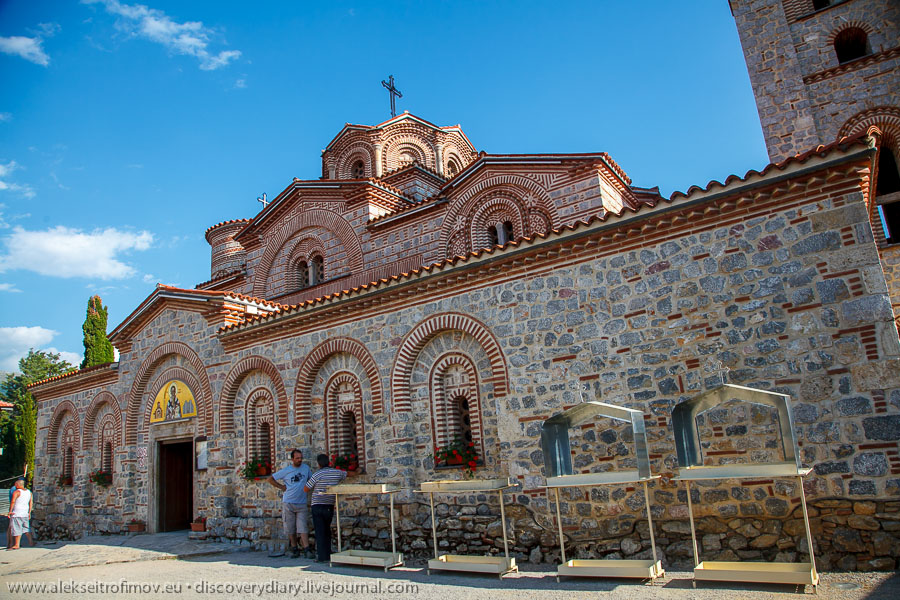 And finally the crown jewel – the most pictureseque church of Sveti Jovan at Kaneo. This is the church that graces all Ohrid postcards. It was built in 13th century on the cliff edge.