Valparaíso is a famously beautiful port city about an hour from Santiago. Chile's main port, it used to be one of the most important ports in all of Latin America. In the days of old galleons full of silver sailed from Lima all the way to the Drake Strait before moving on to Europe, and on the way they always stopped in Valparaíso. It remained a key economic point until the Panama canal was opened, when all the traffic instantaneously moved there and Valpo turned into a secondary port now serving only Chile's needs and more famous for its beautiful streets.
But let's start from the port on a sunny day: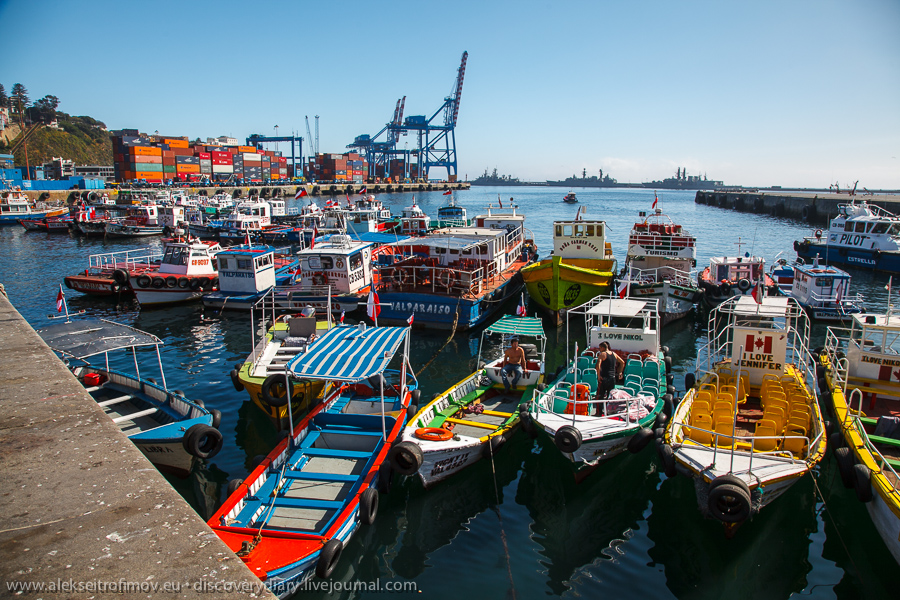 Valparaíso is built over many hills (cerros), which gives it a unique feeling. View of the port from one of the cerros. A line of warships guards the entrance.

One more view, and smack in the middle is the painting of a locally well-known painter.

Valparaíso is a touristic capital of Chile. It is famous for its colourful painted streets connecting one cerro to another:

Like Santiago, Valparaíso possesses a house of Pablo Neruda turned into museum. This one is called La Sebastiana and it is built on one of the hills. It is narrow, but has 5 storeys and hugs the mountain. The view of the ocean from its windows is superb. La Sebastiana:

You cannot photograph inside the house, but view from there is something like this:

Like La Chascona, La Sebastiana is a truly magical place. I liked it even more, because it is somehow full of calmness and joie de vivre and is less political. Pablo Neruda lived and created here, and here is his famous chair called La Nube (The Cloud), from where you can see the panorama of the ocean. A carrousel horse gallops in the dining room, an English queen smiles from a painting at a French marques, exotic birds fly from the ceiling, old clock beats its own beat and the bar stand where Neruda himself stood is full of bottles…
In the garden there is a bench with a poet's profile for its back:

One of the town's quarters is designated the Open Air Museum, particular painters have painted particular walls there (as opposed to the totally chaotic process elsewhere in town). A staircase in that area: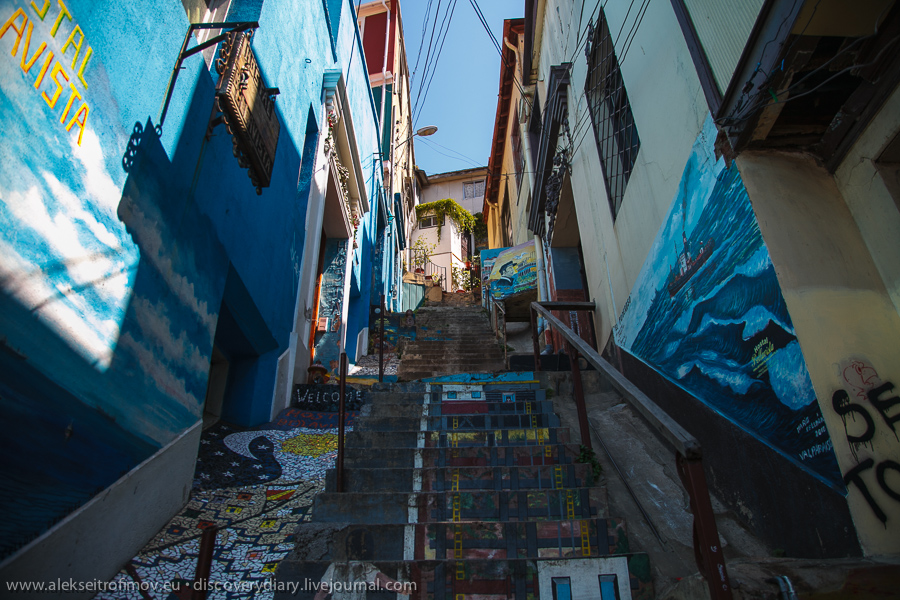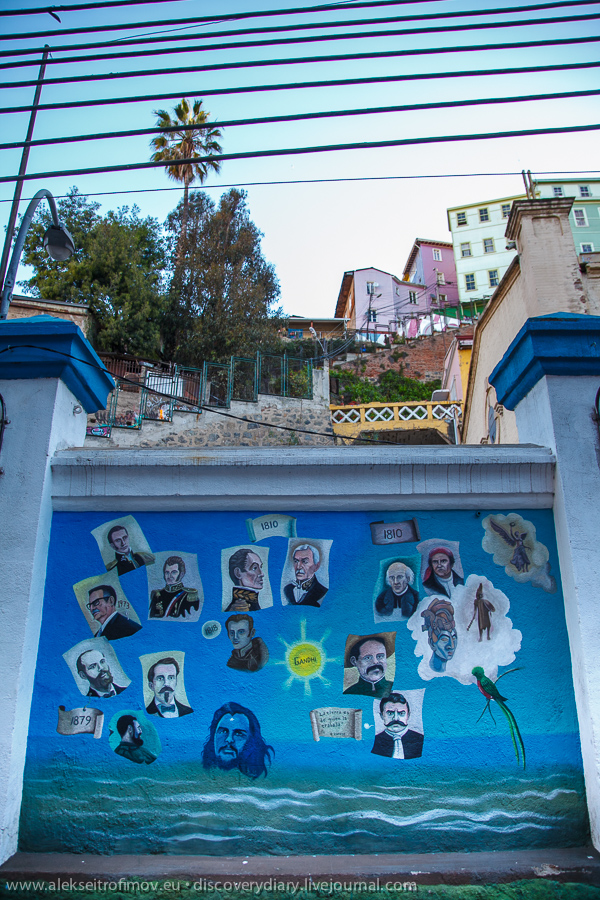 I took part in a morning "tour for tips". The one in Valparaíso is far superior to the one in Santiago, which I also attended earlier.
Old central street of Valparaíso. The picturesque houses are close to ruin inside as there is no money to restore them to former glory.

We entered one of the historical buildings on that street, today rented out to offices and for cheap accommodations (bathroom on the floor). The feeling inside:

The local climb the cerros using such stairs:

The alternative is a funicular, of which there are quite a few. The price is 100 to 300 peso (a fraction of a dollar). The view from one of them:

One more street-staircase:

On our tour we visited this street singer. His name is Rene Osvaldo Leon Saez and he even has his own youtube channel.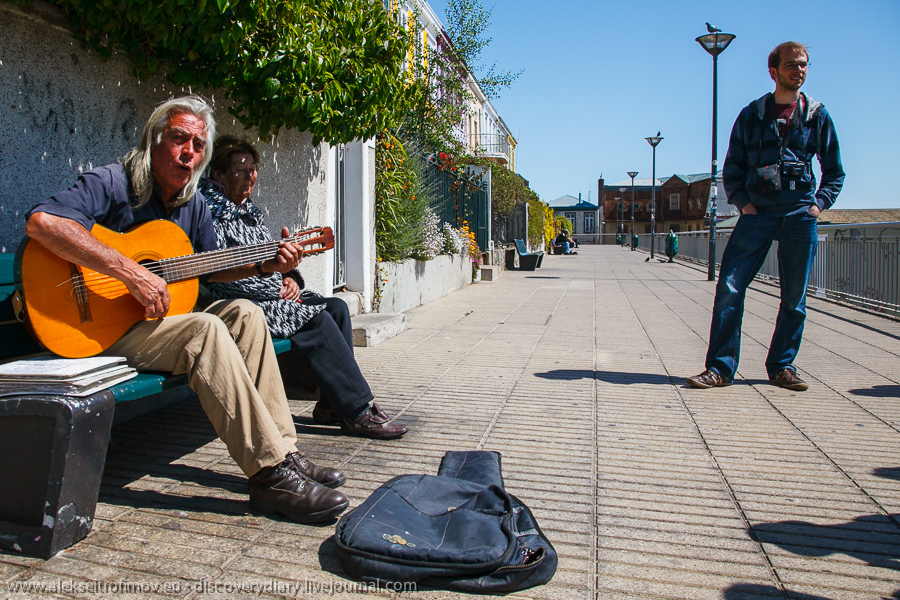 I enjoyed the writing to the walls, many of which coincided with my own feelings. "No matter how hard they force me, I will never say that yesterday was better. Tomorrow is better."

You can decipher this one for yourself.

Our guide explained to us that Valparaíso is a very poor place and so its inhabitants naturally sympathise with the left. One of the streets is adorned with this portrait of Salvador Allende. The guide insisted that there is no portrait of Pinochet in this city.

Street art:

We took a trolley and a local coquette observed me with interest:

One more view of Valpo: