Dubai is such an intense place with so much going on that in my mind I was certain – I would be surprised. I would find things that lie outside of the stereotypes of megalomania and shopping. I just had to keep my eyes open and they would come.
Probably the most unexpected find turned out to be an incredible richness and variety of contemporary art galleries. I'd read about at least two clusters of galleries – one in the industrial Al Quoz area close to Noor Bank metro stop; the other in the Dubai International Financial Center area (metro Emirates Towers).
I started in Al Quoz, from its most well known gallery called Courtyard. The eponymous courtyard is surrounded by a whole series of galleries. The main gallery and the passage to the courtyard:



I was inspired by this book exchange rack located right next to the entrance to Courtyard. The rules are simple: you can take any book on the condition that you leave any other book. Nowadays the books as physical objects are so omnipresent that to me it seems unreasonable to keep books in your house unless you reread them often. As for me I would gladly exchange most of my books for some other new ones. Et voilà! (Actually I have sold most of my books to a second-hand bookshop in Brussels before setting off on this trip.)

I also visited the Third Line gallery, featuring an interesting exhibition of an Iranian metal artist. The curator stroke a conversation with me that I found utterly fascinating – this was the moment that I realised the contemporary art scene in Dubai was something special. He directed me to the Al Serkal centre, which was close by. I didn't know yet that Al Serkal is a former industrial estate transformed into a huge gallery complex – there are about 20-25 galleries. Quite unbelievable! I spent there at least four hours and only left because the galleries closed at 7pm.
One of the exhibitions – by a very left-wing female artist. This particular artwork uses air balloons in the sand, painted in traditional colours of Arab flags, as the representation of the Arab countries. Indeed the number of the balloons corresponds to the number of currently existing separate Arab countries. The artwork strives to highlight the ephemeral nature of the Arabic statehood, the lack of true state identity as opposed to the ethnic or tribal identity. (Indeed the instantaneous success of ISIS seems to confirm this point.)

I liked Al Serkal so much that some days later I went there again. This time I would visit each and every gallery. I spent a lot of time in their café too – called A4.

The café is a wonderfully comfortable work space and features two levels. On the second level there are endless books that you are free to peruse. Some hours later I woke up from the book-induced hypnosis to discover they're closing!

The other gallery cluster is located in the financial centre of Dubai. The galleries there are way more mainstream. As I was passing this arch on my way there, I was trying to imagine the life of the people who work there – most of them are Western expats. I could also be working in a building like that. What would it feel like?

About 10 galleries surround a space enclosed between the DIFC skyscrapers. The Art Sawa gallery:

I especially liked Opera Art Gallery.

One more relatively little visited institution in Dubai is the Sheikh Mohammed Centre for Cultural Understanding.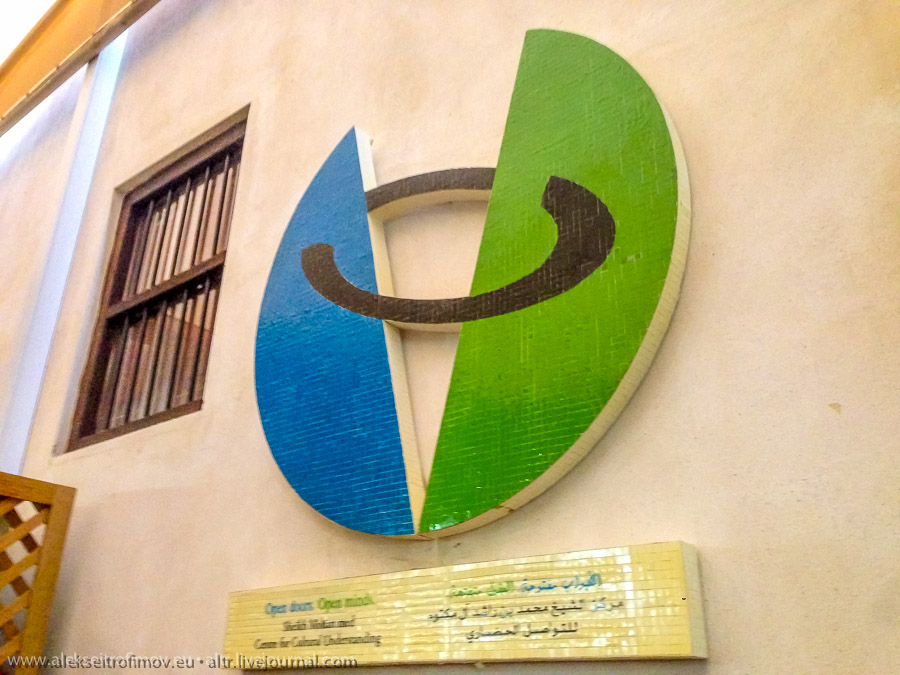 In the mornings they serve the so-called Emirati breakfast. As you sample traditional food, you get a chance to talk to real Emiratis, who also participate in the breakfast. Quite a rare chance.

One of the things you would least expect in Dubai (or anywhere in the world for that matter) is a North Korean restaurant. And yet there is one in the Deira area. There is only one other NK restaurant outside of North Korea. It is located in Rangoon, the capital of Myanmar. When I was in Rangoon I had plans to visit it, but as it's located quite outside of the centre, finally I had no time to get there. But this time in Dubai I promised myself to find it!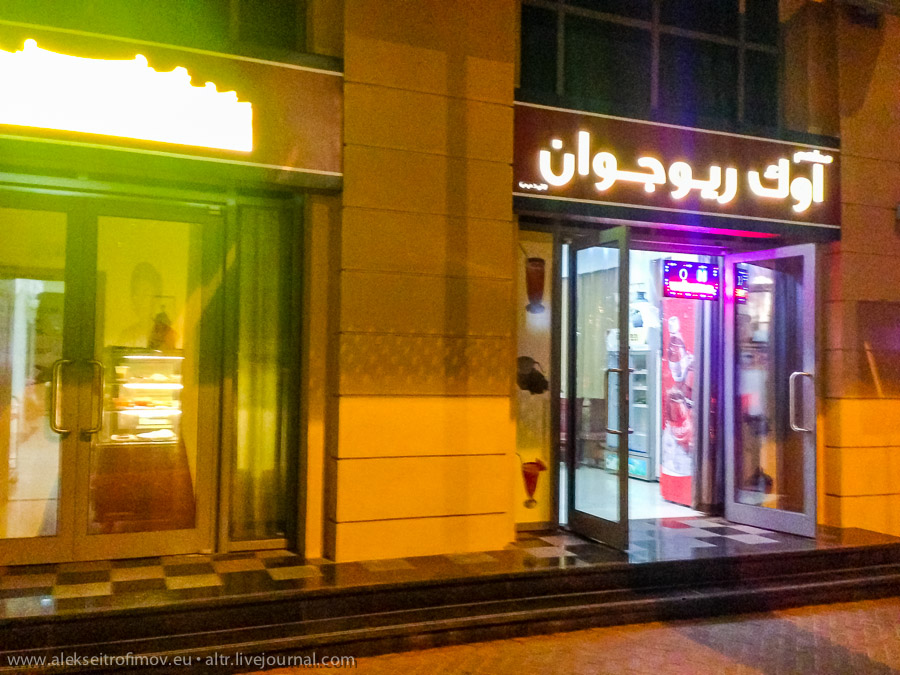 The experience is seriously bizarre. The waitresses are all dressed in the same folk costumes and to an untrained eye they look quite identical. The menu is a fantastic mixture of English and Korean words. The restaurant's walls are covered with communist-style large paintings. In one of the corners there is a TV that is blaring over and over the same short propagandistic movie. In another corner there is a souvenir corner – you can buy cheap-looking flags and key holders with North Korean symbols. The whole time I was there the restaurant was practically empty – there was only one other couple. At some point as they were preparing to pay their bill, one of the waitresses approached them with a huge harmonica and with startling efficiency started playing a Russian folk song that I know by heart. The other waitress clapped her hands enthusiastically the whole time. It was like a parody – only it was real.
It is not allowed to make photos in the restaurant, so I only made some quick snaps. I ordered the most expensive item on the menu – the Mount Kumgang mushrooms. For the waitresses it was a shock. They asked me incredulously: do you know what that is? The mushrooms did not impress me too much.

I simply had to photograph their bathroom. Have you ever seen a washing machine in a restaurant bathroom? Me neither.

As I was leaving, I snapped one of the bored waitresses in the empty restaurant.

Obviously I enjoy discovering various unusual eateries. In Dubai I went to rather interesting ones – a Filipino, a Pakistani and a Kenyan restaurants. But perhaps the most exotic (after North Korea) was a Yemeni eatery. It is called Al Tawasol and is also located in Deira. Supposedly it's the best place in Dubai to check the traditional Yemeni food mandi. As you enter, you get to choose between two spaces – a traditional space where you sit on the floor in a kind of a large tent, or a normal space with tables and chairs. After careful consideration I went for the latter.

The mandi dish is a very tender sheep meat prepared in a tandoor over with rice and spices. If at first the red spice mix in a small dish seems weak – beware! Even a small drop turns into a raging fire on your tongue rather quickly! The mandi was delicious. Yemenis would eat it with hands, and the cellophane on the table is used to efficiently remove all the food scraps at the end of the process. I was served a knife and a fork thankfully.

And to finish off the "unusual Dubai" – this curious machine. No ATM this. It's a donation machine! I pressed the screen and was confronted with a list of Islamic good deeds, each with a corresponding foundation. You only pick the deed and pay! A rather smart idea in my opinion.