An unsuspecting English speaker would read Chișinău using the sounds as in "child" and "sin". That's pretty wrong. The correct Romanian pronunciation is more like "Kishinau" – indeed it sounds similar to the city's name in Russian, which is Kishinev.
We arrived in Chișinău late on a Sunday night. Everything was closed and even to exchange money was a challenge, unless you were ready to pay 20% commission. Finally we stumbled across an abandoned-looking exchange bureau and I got some Moldovan lei. These are very strange looking notes, they seem like currency from a board game, as they're very small and the quality of the print is low. It was pleasant to use them though as Chișinău is very cheap.
We stayed in the Adresa aparthotel, again booked on the day before arrival. It has a reception like a hotel but the actual units are flats in a typical Soviet apartment block. We immediately felt that we were no longer in Romania when the lady at the reception met us with an icy stare and complete lack of smile. The flat however was comfortable and cosy.
First thing we went to a supermarket and bought all kinds of products alien to Western Europe, or even some of the East. Among the discoveries for my friend were for example сушки, a kind of a small and dry Russian bagel (in a blue package below), as well as a waffle cake from the famous Latvian Laima factory – he couldn't stop devouring it! As for me, I could not resist an impulsive acquisition of a can of cacao condensed milk (not on the pic but a strong catalyser of my childhood memories). Wonderful Moldovan wine and of course mushrooms.



Overall it was quite a bizarre feeling to walk around Chișinău at night. Rather aggressive looking men with bold heads pass you by and measure you up without much friendliness. We attempted to enter a café featuring the following signs on the glass door. They wouldn't let us in! This is the phenomenon of feis kontrol ("face control"). My friend had stylish sport pants and their combination with our English speech created a strong cognitive dissonance in the security man. Should I let them in or not? We left. We later discovered the signs of "no weapons" pretty much everywhere in Chișinău. Which is telling.

And yes, let's admit it – for a tourist there is nothing to see in Chișinău for a tourist. The broad main prospect – nowadays named after Stefan Cel Mare, the most successful king of medieval Moldavia – is anonymous and faceless.

The central point of the city is the Arch of Triumph. I wonder which triumph exactly.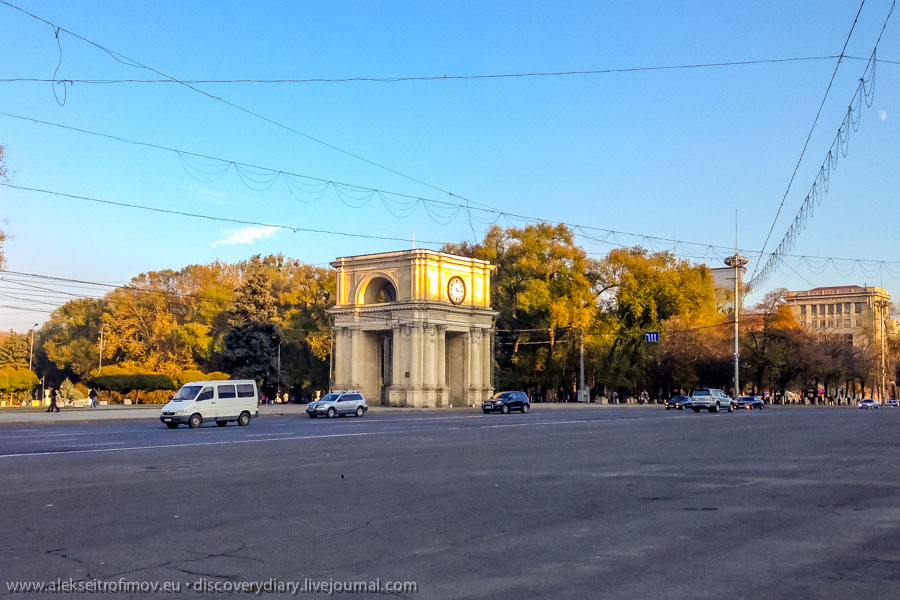 There are two large park in the centre of the city and the miniature Orthodox Cathedral is in the centre of one park: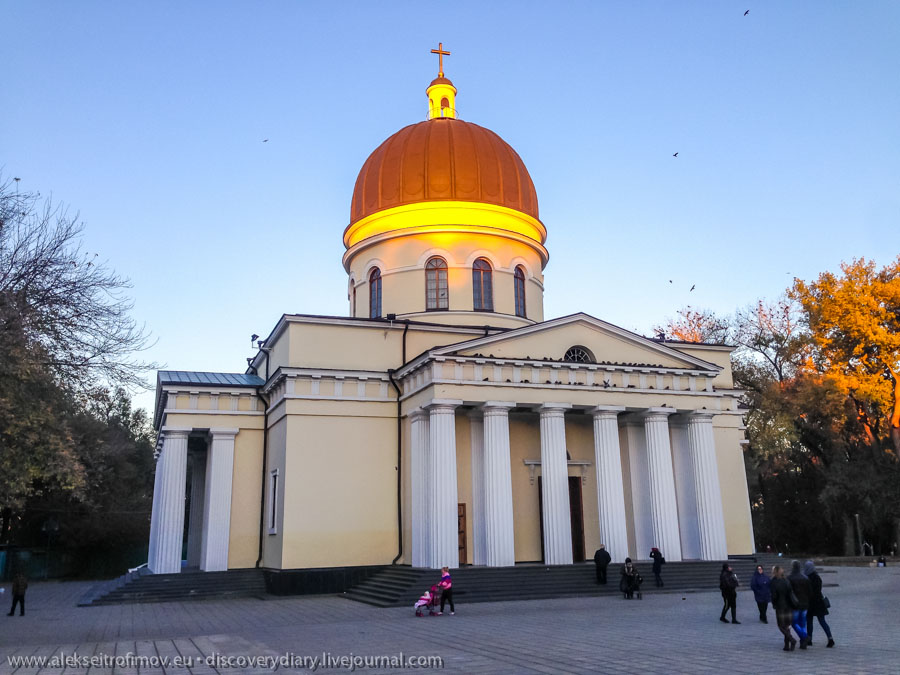 A dry fountain in the other park. I guess it's much more fun to go to Chisinau in summer. But as it was freezing when we were there, we had no great desire to walk around on the streets. We did go to a couple of museums – the Arts Museum (it's a joke – two rooms with third-rate paintings) as well as the History Museum. The main interest of the latter visit was an incredibly rude lady selling the tickets. I responded to her with icy politeness which seems to be the most efficient weapon against such Soviet artefacts.

A memorial to the victims of Stalinist repressions by the main Parliament building. I guess it demonstrates a relative pro-Western orientation of Moldova. And yet we were there at the time of the election campaign and all of central Chișinău was covered in competing posters of the Communists and the Socialists. These parties fight for the same electorate, and the Socialists proudly proclaimed on their posters: "Strong Moldova – with strong Russia!" There you go. But the election was won by the pro-European parties anyway.
At some point I thought I was hallucinating when I saw posters calling to vote for Victor Ponta. Then we realised that Ponta was hunting the votes of Romanian citizens in Moldova, of which there are many.

Of course we could not limit ourselves to visiting only Chișinău. It was de rigueur to visit Transnistria, but in addition to that we pencilled also the little-known autonomous republic in the South of Moldova – Gagauzia. This is where we headed from Chișinău.