As a rule, at the gates of every Phnom Penh hotel an army of tuk tuk drivers is waiting. A tourist exiting the hotel is met with a chorus of voices: "Tuk tuk, sir? Tuk tuk?" On average a tuk tuk driver earns 4 dollars a day, therefore a single trip with a tourist – a price of which will be at least one dollar – can be quite interesting. Nevertheless it is quite tiring to argue endlessly with them about the just price. I befriended one driver who did not argue with the just price that I named and therefore got all the business from me, to the jealousy of others. On my last morning we were discussing the various tourist attractions. I had visited all the usual suspects with which he was trying to seduce me. Finally he reached a strange place called "Sooting Rage". Sooting rage? Only after a couple of minutes of deciphering I understood that he meant a shooting range. I couldn't miss that.
The range is found close to the international airport, and it takes 30-40 minutes by tuk tuk to reach it from the centre of Phnom Penh. The gates are guarded by two rather lonely looking armoured personal carriers. An instructor in military uniform greets you at the entrance and hands you a menu, quite like in a restaurant. Each page of the menu contains a description of some new type of weapon, which one can try, as well as the number of shots and the price. Judging by the appearances, the whole attraction is controlled directly by the army. The very first item is Kalashnikov, though I had the impression that it was of Chinese make. It costs $40 for 25 shots. The American semiautomatic weapons are more expensive: from $40 to 50 to 100. The revolver is priced at $25 for 6 shots. One can throw a hand grenade ($100 for 1), shoot from a grenade launcher (also $100). For $350 one can shoot from a hand held anti-tank grenade launcher (which is kind of shocking considering we are in the vicinity of the airport).
I have never held an assault rifle in my hands. Thus the first shot from AK47 gave some adrenalin to my blood. I had sound blocking ear sets, so could only hear a muffled sounds, and of course the rifle's inertia gives a slight hit to the shoulder. At a certain moment the instructor switched the rifle from semi automatic to automatic regime. At this point you have to hold the rifle very strongly, as the inertia is so strong that the gun turns upwards very easily. The whole thing was quite indescribable.
Of course remembering the just seen scenes of mass murder, this attraction leaves a very strange impression. Cambodians, to a European eye, look like children. This instructor, who explained to me the details of functioning of this killing machine with a certain tiredness, looked like a child who grew up too early. The Khmer Rouge and their victim in the Genocide Museum had the same look.
The entrance to the shooting range. The instructor sits behind the computer, the ticket window is to the right.



The exposition of all kinds of weapons that one can try. The shooting range itself is to the left, it is forbidden to take pictures there.

The result of my attempts.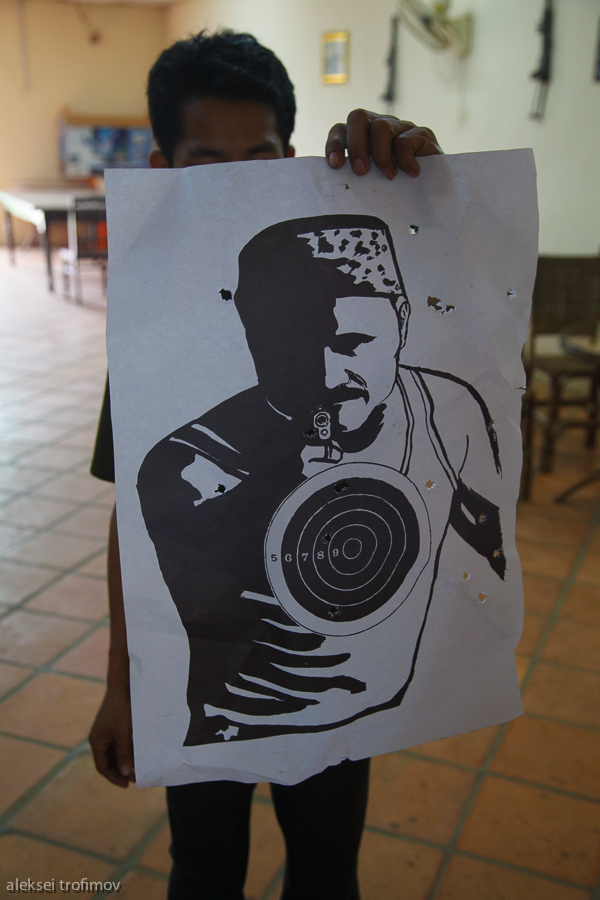 The second experience I want to describe is quite unlike the first. Thailand is world famous for its amazing massage, which is a whole industry there. It is very cheap in Thailand by European standards, so cheap that one can have it literally every day. Some time ago I explored a lot of Thailand forums and to my surprise I came across one traveller's review of a massage place in Cambodia which was even better than in Thailand.
The place in question is called Bodia Spa, a massage saloon which indeed to my mind knows no equals even in Bangkok. During my time in Cambodia I went there three times. It is unique due to its quality. It is quite expensive in Cambodian context, but in Brussels such quality would cost a lot more, if it could be found. Every detail is thought through, every move is planned, every moment one feels at the centre of unobtrusive attention. Again, as one enters, they give a menu with all types of massages and treatments. Once a massage is chosen, they bring four cubes so that the massage oil can be chosen – each cube representing a scent, such as ylang ylang or eucalyptus. They also ask which gender you want the masseur to be.
I tried:
1) The combination of massage and jasmine rice scrub. After the massage the body is rubbed with small rice grains, which remove old skin.
2) Combination of massage and mango body wrap. Mango extract prepared on the spot is put all over the body and then they wrap you with cellophane for about 30 minutes. A slightly weird, S&M-like experience! The extract is absorbed by the skin and is meant to renew it.
3) A four hand massage. The idea is that the two masseurs combine their movements in such a way that each movement is amplified. They rarely do different body parts, on the contrary, most of the time they work the some body part at the same time. Again, quite an indescribable experience.