I've always had a complicated relationship with Barcelona. And yet I realise that I keep finding myself here. This year was the sixth time that I came to Barça, not counting comings and goings within each visit. For example this time I did a change here on my way from Girona airport to Andorra, then from Andorra to a plane to Belgrade, and another time on the way from Sardinia – but all of this I consider as one visit.
Barcelona is a middle sized city, but it feels like a huge one. You can't come here unannounced and expect to find accommodation easily, the way I do most everywhere in the world on my big trip. In terms of hotel availability and prices Barcelona is in the same league with London, Paris and New York, despite the fact that it's way smaller. For me Barcelona is full of unexpected twists that are no problem if you know about them, but that keep disorienting you if you come here as a visitor. Above all it is counter-intuitive: things are not where you expect them to be and clear information is hard to obtain.

For example it always throws me off that there are two airport terminals which are a long way apart. Another example: chaos tends to reign at the main train station. Trains arrive seemingly at random. Sometimes trains are full. In Belgium at least you can make order of the chaos by carefully studying the electronic screens announcing arrivals and departures; in Barcelona these are pretty useless, as only some trains are included on them according to some medieval logic. And so it goes. The locals though not only know these peculiarities by heart, but have automated various shortcuts to such an extent that they are surprised when a hapless visitor shares his annoyance with them.
Of course all this said, Barcelona is still a fascinating place. This time I decided to finally visit one of those places which I always wanted to see but never quite had the time. It is Casa Milò, also known as La Pedrera (the Quarry). It got its sobriquet thanks to the particular look that Gaudí gave it, much like a rock that has been attacked by an army of stonemasons. A model, to give an idea of the look of the place:

And its actual courtyard:

Surely the most outstanding feature of Casa Miló is its roof. A fantastic labyrinth of strange passages and vaguely archaic statues, it offers a wonderful view over the central Barcelona:

Personally I doubt that I could live in a house constructed by Gaudí. And so I'm not too surprised that the lady of the house of Casa Miló immediately threw out all the Gaudí-designed furniture as she moved in. Though it does of course looks like a sacrilege from today's perspective. But try living in this enchanted kingdom!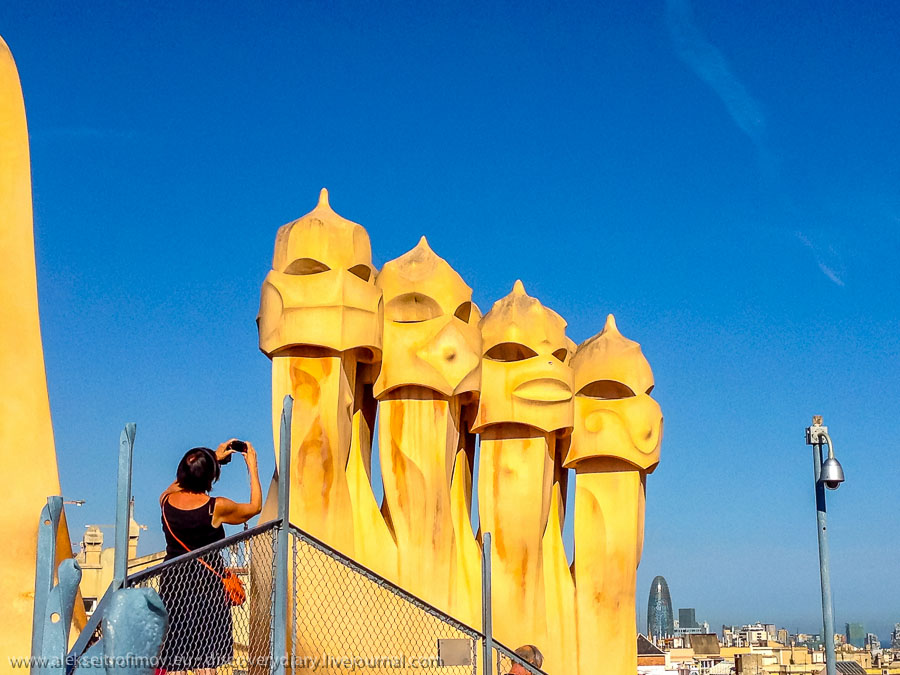 An element of internal decor – a lamp hanging from the ceiling. As you realise, it is placed above a mirror. The reflection creates a visual illusion of a model of another of Gaudí's designs – a chapel in Parc Güell.

There is a Gaudí museum inside Casa Miló. The exhibition identifies various sources of inspiration for the mad architect. For example these diverging tree branches – these could be also river systems or leaf patterns or anything else in nature. These are referred to as fractals and fractal geometry is the branch of science that studies them.

In Barcelona, as everywhere, I always visit the contemporary art museum. This is the courtyard of CCCB – the Centre of Contemporary Culture – in Raval neighbourhood. I love this place, the combination of the old and the new. I also went to MACBA.

Walking around Raval I came across this action. A football match with a crowd of spectators, and everyone – the players and the spectators – looked like South East Asian immigrants.

I arrived in Barcelona on a Ryanair plane from Alghero. In fact Ryanair flies to the Girona airport, which is quite far from Barcelona. I decided to stay for the night in the town of Girona and I didn't regret this decision – it is a wonderful and atmospheric old Catalan town. This is the bed of the river that goes through the old city.

As you walk around Girona (and Barcelona), you can't ignore the pro-independence slogans and Catalan flags everywhere. At that time it was not yet clear that the Catalan referendum could not go ahead. But it was and still is obvious that the desire for independence is no joke.