Australia is huge. More than huge – gigantic. We are so used to seeing its contours on the map that usually we don't consciously think of how many kilometres separates say Sydney from Darwin. And yet even though its population is only 20 million, it is comparable in size with Europe. If you wanted to drive around Australia in a car or a bus, you would need about six months to see all the coastal attractions. I met qutie a few people on my way who did or were going to do exactly that. As I wasn't ready to spend six months in Australia – it is pretty expensive too – my only solution was to fly.
The connection between small towns in sparsely populated parts – such as the Northern Territory – is not driven by the laws of commerce though. A girl in a tourist office of Darwin told me that to fly to Alice Springs, I could "choose from Qantas, Qantas and Qantas". Qantas is of course the Australian national airline and I suspect some of its flights are subsidised. Anyhow one early morning I took a plane from Darwin to the town of Alice Springs, which is located right in the centre of Australia as you look at the map and is separated from each and every coast by huge expanses of desert. This area is called the Red Centre – and you quickly understand why, seeing as you do the endless spaces covered by red dirt.
The main street of Alice:



I was somewhat shocked to see completely drunk aborigines on these streets who would loudly shout at each other or lie on the ground in rather antisocial poses. I'd already seen two or three in Darwin, but here it hit me as a systemic issue. This doesn't mean though that all aborigines behave this way, but it does signal serious social problems. I did not photograph them – I thought it rather unwise from the way they looked at me!

I've often heard the opinion that there's nothing to see in Alice Springs, but I must decisively disagree – for such a small town, there's a surprising abundance of interesting sites. I was most looking forward to visiting the Reptile Centre.

I'd read that at a given hour the Reptile Centre conducts a visual demonstration of all of its dwellers and so I arrived at the advertised hour. They first invited us to walk around the rooms and to take a look at the reptiles in their glass cages and enclosures in the courtyard.
How many lizards can you see?

A goanna.

This fantastic creature, as I was told later, is capable of absorbing moisture through its feet – in effect drinking. It's called a thorny devil.

The thorny devil shares its enclosure with another lizard, a blue tongued skink. The blue tongued lizard is an important local character as it plays a key role in the dreaming of the aborigines of this area. The interactions between the lizard and other characters explain various parts of the landscape.

Finally we were all invited to listen to some stories about the reptiles. First the goanna was introduced to us:

The goanna then was placed on the floor and it started roaming the room nonchalantly, even though the visitors were somewhat apprehensive about their first meeting:

The next number – we get acquainted with the blue tongued lizard. Rather closely acquainted.

Too close for comfort?

More friends.

This one sits on my arm as if it's the most natural thing in the world. It feels like a very dry tight matter envelops your body.

Finally the best part of all – saying hello to a python. We were first asked if by any chance we hadn't played with kangaroos or other animals that morning – as the python may mistake you for food if you still have the food's smell. I'd eaten kangaroo that day but the girl advised me that that was ok. The snake slid around me and I quite loved the moment. Lots of adrenalin – I didn't want to take it off!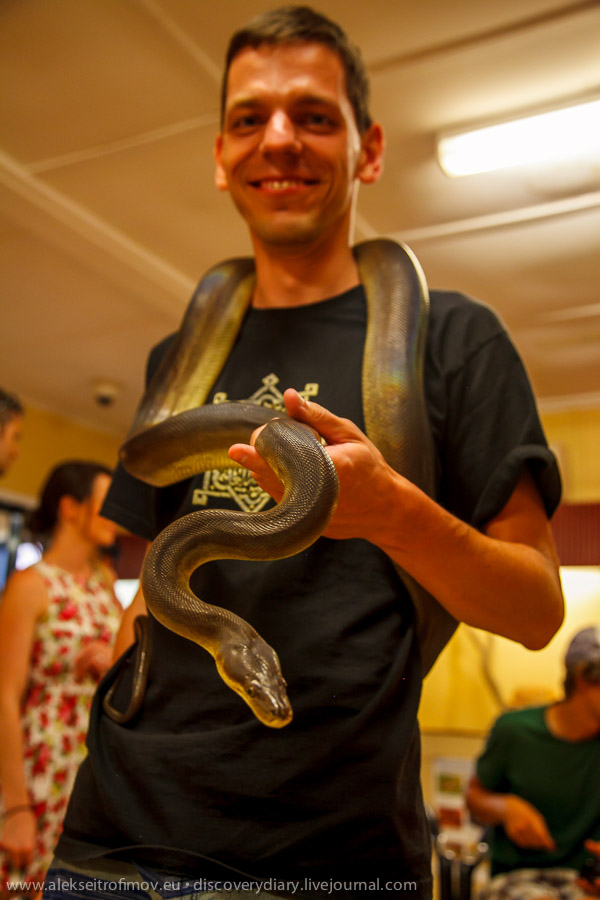 This is the kangaroo I'd eaten that day. On the left is the crocodile meat in batter.

That evening I visited the ANZAC monument which offers a view of Alice Springs. The landscape here is pretty fantastic – two narrow mountain ranges meet on the horizon forming a deep narrow passage. No wonder the Arrernte aborigines who lived here for 20,000 years would see them in their Dreaming as traces of giant caterpillars – creators of the universe.

This is the monument that crowns the hill. ANZAC was a military union – a local analogue to NATO. In its framework the Australian soldiers participated in all the World Wars as well as some other conflicts such as Vietnam. Quite a few died.

The hill used to be an aboriginal sacred place and is associated with the Corkwood Dreaming.

Sunset in Alice.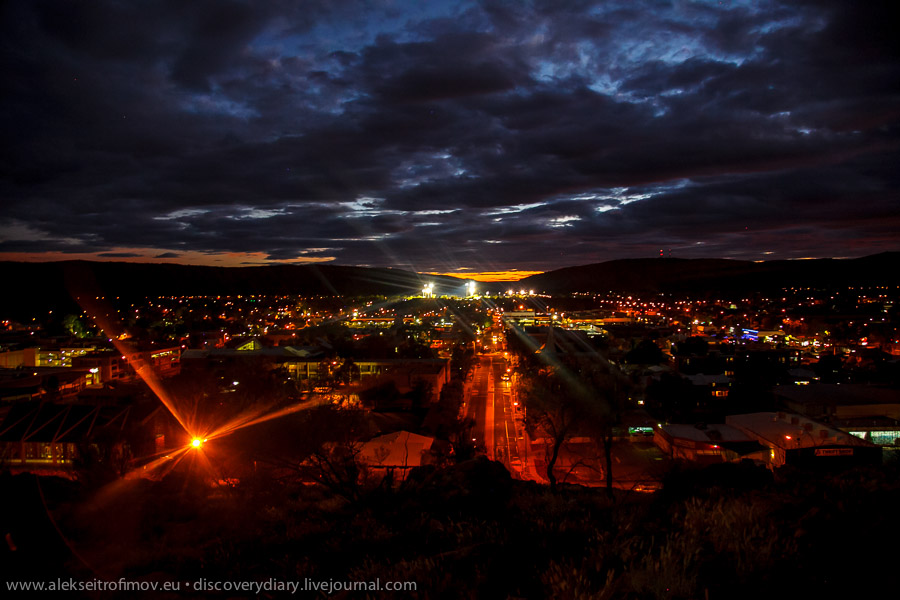 Alice Springs is the closest town to the famed Uluru, Ayer's Rock. The next post is about Uluru.